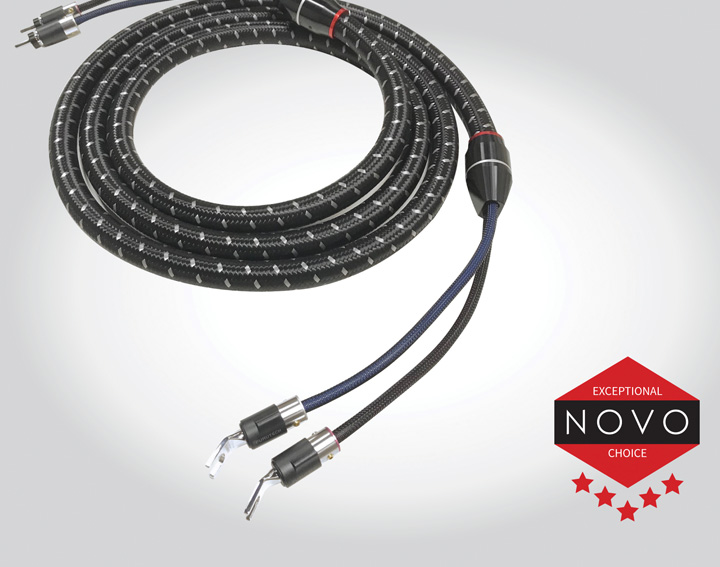 Japan… land of the rising HiFi. When one thinks of Japanese cultural symbols, thoughts of drift cars, pachinko machines, portable music players, and Shinkansen bullet trains readily… ehm… drift through the mind. Japan is a detail-oriented country. No other society on earth can so happily obsess on making minor improvements to small items to invoke significant increases in overall performance — especially with cars and electronics.
Founded in April 1988, Japanese specialist parts and cable manufacturer Furutech has a proud 30 plus year tradition of fabricating outstandingly good sounding and value packed audiophile cables, A/C power distributors, outlets, plugs, connectors, and ancillary parts.
When NOVO asked if I'd like to review a pair of Furutech's new flagship DSS-4.1 OCC-DUCC speaker cables (SCs), I embraced the assignment as passionately as Stormy Daniels embraces female patrol officers from the Columbus Ohio Sheriff's Department.
Product Description:
A few years ago, rumours began circulating that Furutech was working on a new bulk speaker cable that would re-write the price/performance ratio and provide jaw-dropping sound without the space mission price.  This cable would use cutting edge DUCC (Ultra Crystallized High Purity) copper licensed from Mitsubishi and combine it with Furutech's own Alpha-OCC. In early 2019, that cable finally arrived in North America.
My review pair of the new DSS-4.1 speaker cables was terminated with Furutech's own custom fabricated FT-211R ['R' is for Rhodium] spade connectors on the amplifier side and FT-212R locking banana plugs on the speaker side. These lightweight spades and bananas both feature non-resonant housings and non-magnetic setscrews.  The DSS-4.1 speaker cable can be purchased in bulk (non terminated), or ordered with your choice of connectors.
The DSS-4.1's core conductors are fashioned out of four distinct layers. The center is comprised of an NCF PE core. The second layer is a bundle of 89 individual strands of 0.18mm diameter Alpha-OCC copper and rotates to the right. The third layer is 39 individual strands of 0.18mm diameter Alpha-OCC copper that counter-rotates to the left. And the fourth outer conductor layer is 62 individual strands of 0.13mm diameter Alpha OCC-DUCC copper that counter-rotates to the right.
Furutech then adds ten(!) separate layers of shielding and insulation on top of the OCC copper conductors. At about an inch in overall diameter, the DSS-4.1 is quite flexible and easy to install. The outer sleeve is a black and white snakeskin-patterned nylon yarn jacket.
Furutech and MMI have invested more R&D into these speaker cables than NASA sunk into the Apollo space missions during the 1960s. Massive investments into R&D and materials engineering don't mean a damn thing though if a speaker cable doesn't have stellar sonics. So… how do Furutech's new flagship SCs sound?