Clarity Is the Reference Series' Forte!
Vermouth Audio is one of Indonesia's hidden gems when it comes to hand crafted high-end audio cables. Located on the beautiful island of Bali, the company was founded in 2010 by Hendry Ramli. Mr. Ramli, a man with a huge passion for audio, had a dream to help other music lovers achieve the highest standard of audio by developing high quality cables at reasonable price points. Today, Vermouth Audio designs and manufactures an attractive selection of cables and cable connects, alongside a single stand-mount speaker and a single amplifier model. Its products currently reside in numerous high-end systems in Indonesia, Malaysia and Australia. Well known for its Black Pearl speaker cable based on Ultra Pure OCC, Vermouth Audio products have been showcased at various high-end audio events, such as the Kuala Lumpur International AV Show (KLIAV) and meetings of the Indonesia High End Audio Club (IHEAC). Since Vermouth Audio is located in my part of the world (I live in Malaysia), I was delighted to try the Vermouth Audio Reference series XLR interconnect and power cables in my system.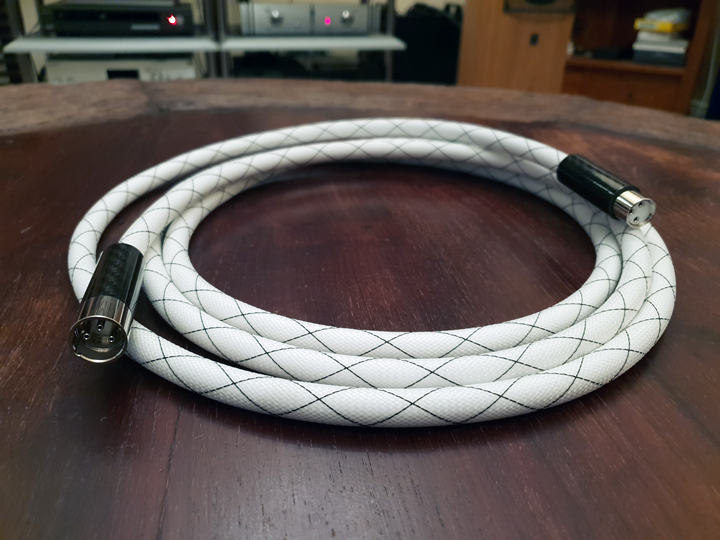 Design
The Reference series is the company's flagship range of cables, and currently offers three cables: an XLR interconnect, and RCA interconnect and a power cable. A loudspeaker cable is under development and will be joining the range this spring.
The Reference XLR / RCA interconnects utilize a similar design, while the power cable is built differently. The interconnect cables use multi-size Ohno Continuous Cast (OCC) copper blended with rectangular OCC copper. They also employ double PTFE Tape protection combined with a Cu Mylar wrap, along with a braided OCC copper shield. Both the XLR / RCA plugs are Teflon insulated with a full tellurium copper, rhodium plated conductor. The RCA version of the cables comes with a locking RCA plug – a really nice feature.
The Reference power cable features a 10AWG UP-OCC copper conductor, built out of 39 multi-size strands of copper. This cables offers a braided shield and a noise rejecting Al-Mylar wrap. The plugs are some of the best you'll find in high-end audio – the Furutech FI-28 Rhodium with a carbon fiber shell. The 19.2 mm power cable is highly flexible which allows easy installation.
The Reference XLR / RCA interconnect is priced at USD $1,520 for a 1 meter pair (and an extra $160 for each additional 0.25 meters). The power cable is priced at USD $1,300 for 1.2 meters (and an extra $180 for each additional 0.3 meters). With the power cable, you can choose either a carbon fiber shell plug (for the North American market) or a Schuko plug (for the rest of the world).
Performance
I began my tests with the Reference XLR interconnect placed between my SONY HAP-Z1ES high-resolution audio player and my Musical Fidelity M6i integrated amplifier. The Reference power cable was providing power to the Sony player. My experience when testing upgraded power cords with different components in my system, always seems to yield best results when connected to digital sources.
When listening to "Take Five" by Dave Brubeck (from a DSD 2.8 MHz file), I found that the Reference cable combo provided a punchier sound, through my PMC Twenty5.24 speakers. The PMC speakers normally offer a fantastic bass performance thanks to the company's Advanced Transmission Line (ATL) bass-loading technology, and with these cables in my system, the speakers offered a much better low-end slam than usual. Even the dispersion of the snare drum was wider than what I'm used to from my system. The low notes dug deeper, while the high notes extended further. The saxophone sounded very airy, resulting in a bigger soundstage but with a good control of the overall musicality.