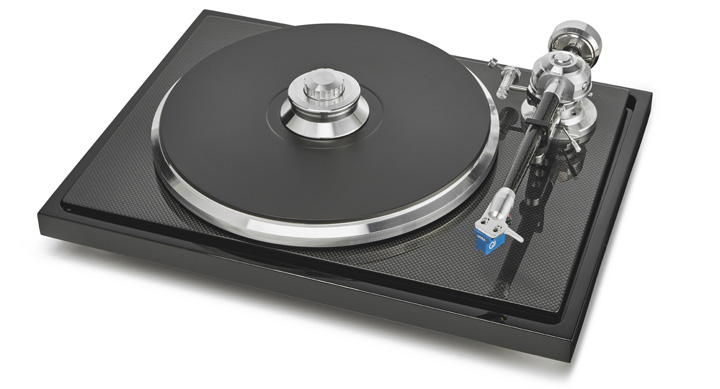 The EAT C-Major turntable above is shown with the Ortofon Quintet Blue cartridge.
EAT is short for European Audio Team, a high end manufacturer based in Austria that has a very interesting story. The owner, Jozefina Lichtenegger, is a Czech national with an extensive background in audio tubes. She met and married the owner of Pro-Ject, and now the two companies share a factory in the Czech Republic, but EAT has independent designs and a distinct product line.
EAT currently offers six turntables, from entry level to ultra high end models, along with tonearms, cartridges, and rather unique looking tube phono preamps. The company clearly values industrial design along with sonic performance. Their products are beautiful to look at, and according to the company's manifesto, are designed to bring the "meaning and spirit of the original composition and performance". That seems to be a very worthy goal indeed.
For this review, their North American importer, Vana Ltd. sent along their C-Major turntable, which is second in the lineup, and sells for a base price of $2545. They offer several cartridge combinations and are particularly enthusiastic about the EAT Jo No. 5 MC cartridge, which sells on its own for $1295, and can be bought with the C-Major turntable as a package for $3345 – a $495 savings. This cartridge was preinstalled on my C-Major review sample, and only a minimal amount of set up and calibration was required.
First, a bit about where the C-Major stands in the line. It is between the entry level B-Sharp and C-Sharp models. The C-Sharp is positioned as a relatively affordable gateway to state of the art playback, and the C-Major, according to EAT is a slightly stripped down version. With a few reduced features, the goal was to still offer high performance for an attractive price. The differences include a 9" C-Note arm, as opposed to a 10" on the C-Sharp, no separate speed control, and a smaller platter and chassis.
Vana Ltd says the tonearm itself is a completely proprietary design which combines all advantages of a uni-pivot arm with a Cardan design. The uni-pivot in the middle only helps the bearing to be less loaded. The traditional Cardan bearing ensures high stability and ease of use with very low friction. Also inside the tonearm is a special silicon-based grease to damp the tonearm / cartridge resonances by more than 50%. The tube is made out of carbon fiber, super stiff and rigid. The headshell is made from aluminum. The combination of these materials in the construction of the tonearm results in improved playback accuracy and allows the possibility of tighter mounting of high end MC cartridges.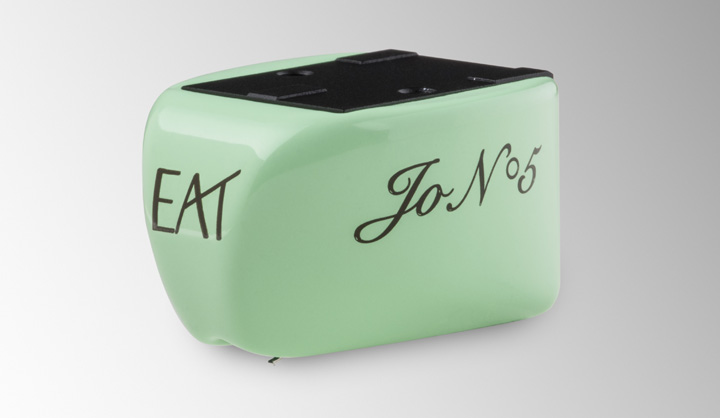 My review EAT C-Major turntable was provided with the EAT Jo No. 5 moving coil cartridge.
According to EAT, The Jo No.5 moving coil cartridge body and stylus guard are produced by an additive manufacturing process which is called Selective Laser Sintering (SLS). This process sinters thin layers of powder with a laser to build the final structure. The cartridge came preinstalled by Vana Ltd. As a plus, it is an attractive cartridge, finished in a nice mint green.
After unpacking the C-Major, and after standard installation procedures, all that was left to do was balance the tonearm, and set the tracking force for the Jo No.5, which is specified as 2.3 g. By the way, all parameters are adjustable, however Vana Ltd. did a lot of pre set up at our request. EAT also supplies a nice set of cables that include a ground wire. The table also comes with a very solid and hefty record clamp The clamp was used for all listening.
The C-Major, was coupled with the excellent, recently reviewed Bryston BP-2 MM/MC phono stage and its matching PS-3 external power supply. EAT also offers an MM/MC phono stage and an external power supply in their product lineup. The table, well leveled, sat on a Symposium ISO Platform, and Rollerblock Jr. isolation devices. No other special tweaks were applied.