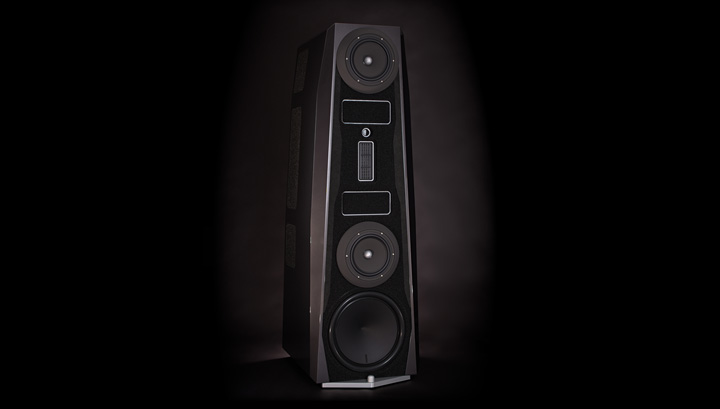 Since 1998 Gruensch has manufactured highly exclusive audio components and speakers in southern Germany and now the company has released its ultimate flagship speaker called the Gruensch Grand Reference.
Years of fundamental research and development form the basis for this technologically and sonically outstanding reference loudspeaker.
A unique, holistic technical concept was combined with an impressive, acoustically-ideal and elegant design to create a total work of art. Passion, deep musical understanding and decades of listening experience have made the Grand Reference what they are today: Musical masterpieces of loudspeaker art.
Here are the highlights of the Grand Reference:
·         GRUENSCH TCPS PLANAR UNIT – Central planar unit as a virtually zero mass Time-Coincident Point Source with dipole technology from the medium low mid-tone range onwards – consisting of two mid-tone planar magnetic transducers, one mid-high planar magnetic transducer and one ribbon super-tweeter – in a special open baffle setting

·         GRUENSCH OPEN BAFFLE – Sophisticated open baffle with special rear sound guidance elements facing outwards for optimised, natural, diffuse sound field

·         GRUENSCH SINGLE DRIVER WIDE RANGE CONCEPT- Broadband concept – The most important frequency ranges from the medium midrange to 15 kHz (more than four octaves) is reproduced absolutely seamlessly by a single broadband planar magnetic transducer.

·         TIME COINCIDENT SPEAKER CONCEPT – Time accurate impulse and music reproduction

·         TIME COHERENT CROSSOVER – Time and phase coherent first-order (6dB/octave) acoustic attenuation slopes

·         TIME-ALIGNED IN PHASE DRIVER CONFIGURATION – Time-aligned, time coherent driver configuration – The aligned drivers are all connected in positive phase so that they push and pull in unison

·         SYMMETRICAL VERTICAL DRIVER ARRAY / POINT SOURCE FOCUS – Mirror-symmetrical vertical drive unit array as quasi-point source

·         Driver Complement: 1x Ribbon-Supertweeter, 1x broadband 20cm (8") Planar Magnetic Transducer (midrange/treble), 2x 25cm (10") Planar Magnetic Transducer (midrange), 2x 22cm (8.5") Bass, 1x 38cm (15") Sub-bass, selected in pairs

·         GRUENSCH ULTRA LOW LOSS CONCEPT
1) Speaker drivers with minimum mechanical losses 2) Ideal, direct operation of the mid-high planar magnetic transducer without series resistor 3) Crossover topology with minimum time delay (no time smear) and use of particularly low-loss components·         GRUENSCH SEALED ENCLOSURE – Sealed enclosure in bass and sub bass range for best impulse reproduction with optimized pressure conditions and prevention of backwave colorations

·         Active 15" Sub-bass – Active 38 cm (15") sub-bass in the frequency range from 15Hz to 50Hz with separate electronic crossover and external power amplifier.
(Required separate external poweramplifier not included in the scope of delivery)

·         Ultra Solid and Inert Cabinet – Exceptionally solid, multilayer, pressure- and resonance-optimized cabinet with extensive internal bracing

·         GRUENSCH PURE SOUND WAVE – Self-reflection-free sound radiation thanks to special design of cabinet and speaker driver environment.

·         LINEAR OCTAVE-TO-OCTAVE RADIATION – Evenly and proportionately increasing membrane surface area to low frequencies

·         Large Membrane Surface Area – Very large total speaker membrane surface area, especially in the mid and high frequency range

·         GRUENSCH STEALTH CABINET – Acoustically "invisible" cabinet with minimal acoustic signature

·         Extremely Tight Tolerances and Highest Precision – Strict pair selection of loudspeaker drivers and very accurate matching of left and right speakers.
For more info, check out www.gruensch.de