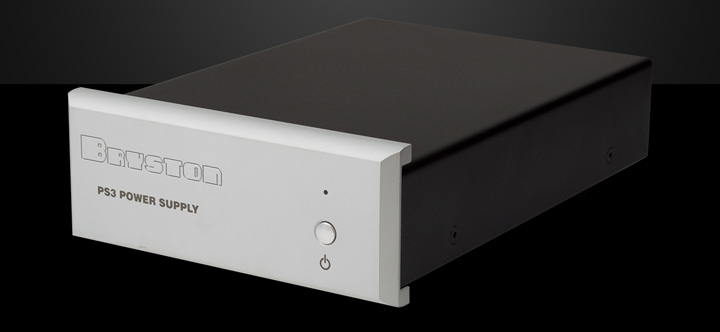 The PS-3 is a fully analog power supply designed with a toroidal transformer. Bryston says the PS-3 provides ultra clean current via filtration and effective regulation. High quality power is essential for all components, but especially important for vinyl playback.
Setting up the BP-2 MM/MC and PS-3 needed no special consideration. My usual preference with outboard power supplies is to separate them from the components they are powering. The umbilical cord supplied was long enough to allow me to situate the BP-2 on my rack and the PS-3 on a block of cedarwood, on the floor behind the system. The only "tweak" was the use of a PS Audio power cord on the PS-3, instead of the stock cable. The BP-2 has a Mute button on the front panel which was most welcomed. It really was a very useful feature, especially when cleaning the stylus, and changing records.
To start, I used my Rega Planar 3 (2016 model) with a Rega Elys2 Moving Magnet cartridge. In the interesting world of audiophile existence, this may seem as a very modest table, but it provides tremendous musical pleasure to this listener. It is equipped with the Rega Neo outboard power supply, and a Groovetracer sub platter. The set up is by the book and simple, and sounds excellent. Since the Elys2 is MM, with no unusual parameters, everything was plug and play. All that was left to do was dig out some vinyl and drop the needle.
Disclaimer, no "audiophile demo" records were played during this review. I played records that I enjoy, and that are common to many music lovers. With that out of the way, the first record I played was one from childhood, Wild Cherry's 1976 self titled debut. The funk is so thick, and the grooves so deep, if I am not moving around the room, something is wrong. Well, nothing was amiss as the Rega / Bryston combo presented the music with immaculate precision, and, most importantly, it was super fun. "Play That Funky Music" indeed, fittingly, the title of the monster single from the album.
The mood stayed vintage, and next up was Traffic's brilliant self titled second album from 1968, on United Artists. I never thought this United Artists pressing was stellar, but I had to reconsider after hearing it via the Bryston. The interplay between the great Steve Winwood and Dave Mason was far more apparent, and all sorts of hidden aspects of the mix came to light. The album was less psychedelic then their debut, and less jazzy than subsequent releases. The BP-2 and external power supply made me want to procure an even cleaner copy.
The pre disco Bee Gee's had a brilliant run from 1966 to 1972, and the album Trafalgar, from 1971 is a masterwork. This early Atco pressing contains their endlessly covered "How Can You Mend A Broken Heart?" and other gems like "Don't Want To Live Inside Myself". Each song is a like a mini pop symphony, and the layers of acoustic guitar, strings, and the magical harmonies of the Gibb brothers was breathtaking. The BP-2 created a very widescreen presentation here, and I had requests to spin this album several times from visitors.
The BP-2 also allowed me to be conclusive about albums I was on the fence about. For example, Harold Melvin & The Blue Notes 1975 album To Be True, a classic no doubt, always made me unsure of how Teddy Pendergrass's raw and powerful vocal delivery fit into the group's smooth arrangements and harmonies. The Bryston allowed me to confirm my long held belief. As great a vocalist as Pendergrass was, his no holds barred style did not quite gel for me. The distinction between the backing vocals, the classic Philadelphia soul grooves, and his lead vocal was clear as day. In contrast, it was also easy to hear the setting for Pendegrass's self titled 1977 solo album, which was more sympathetic, as it featured heavier grooves, and a less lush backing. This was a great listen.
A friend brought over an incredibly hard to find LP, by Cyndee Peters, Black Is the Color, on the terrific Swedish label Opus3. It is very much a purist recording, with minimalist microphone techniques and no added ambiance. The authentic mix of gospel, blues, and folk is just enchanting, and the BP-2 seemed to place all the instruments and singers in specific locations in the recording space. Playing this LP was one of the highlights of my time with the Bryston combo.
Half way through this review, I received the EAT C-Major turntable with their new Jo. No. 5 Moving Coil cartridge. (A full review of this table and cartridge will follow). I initially played all the same records to start. The only thing I needed to do is flip the toggle switch from MM to MC on the back of the BP-2. There was plenty of gain, and since the recommended loading for the EAT cart is 100-300 Ohm, I did not need to make any adjustments. If one needs to change the loading on the BP-2, simply opening the case with a hex tool and configuring the DIP switches is all that is needed to be done.
As great as the BP-2 / PS-3 duo sounded with the Rega, it went up a notch with the EAT table and MC cartridge There was an added delicacy, depth, and precision that had guest listeners extremely impressed, and quite frankly, requesting LP after LP. The records as described above still sounded wonderful, but with a bit more definition in the bass, and it was easier to hear inside complicated passages. Listeners found both presentations very satisfying, and clearly the BP-2 excelled in both Moving Magnet and Moving Coil modes.
Comparison
I thought a fair comparison for the BP-2 and PS-3 would be against the German made Lehmann Audio Black Cube SE, which retails currently for about $1500 US. It includes an outboard power supply and handles MM or MC cartridges. Head to head, I felt the Bryston pair was superior, specifically, with better defined bass, a wider soundstage, an overall advantage in transparency. Don't get me wrong, the Black Cube SE is an excellent sounding unit, it was close, so what I am describing is a matter of degrees. But if I had to pick one, the Bryston gets the clear nod. Of course, factor in that the Byston pair is $1200 US more. But you definitely get what you pay for and more here.
In Conclusion
The Bryston BP-2 / PS-3 duo is a stellar combination. If you are a listener whose priorities are superb transparency, tonal neutrality, and superb, accurate bass, these products are very highly recommended. If you are looking for colored sound, or a presentation that is not true to the source, you may want to look elsewhere. It should be noted that the BP-2 phono board can be ordered in Bryston preamps.
In fact, the BP-2 revealed so much of what was in the grooves, it provided an incentive to engage in record hunting, which this household has not done for a while since we own a healthy collection. Out came the wallet and during this review, we scored several choice pressings that have been on the shopping list. At $2750 US, this combo is in no way inexpensive, but it will more than likely be a purchase that will provide numerous years of good listening. Having had hundreds of review components come through our system, it has never been so difficult facing the notion of packing up and sending gear back to the manufacturer. The Bryston pair was simply transformative for my vinyl listening.
———————————————————–
Bryston BP-2 MM/MC Phono Stage: $1750 US
Bryston PS-3 Power Supply: $1000 US
Associated Equipment:
Preamp: Rogue Audio RP-5
Amplifier: Audio Research VS55
Speakers: Magnepan 1.7i / JL Audio d108 subwoofers
Server/DAC: Bryston BDP-2/BDA-3
Phono Preamp: Lehmann Audio Black Cube SE
Turntable: Rega Planar 3 (2016)
Cables: Black Rhodium (power and signal, Wireworld (digital)
Accessories: Symposium isolation devices/shelves
Power Conditioner: Bryston BIT 15