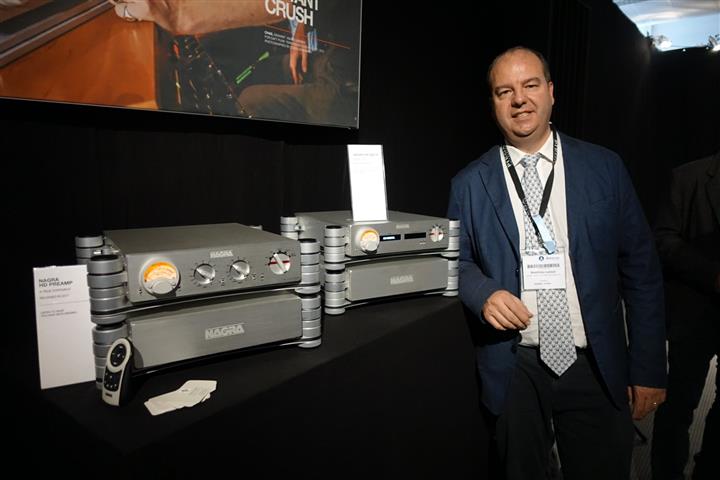 The Munich HIGH END show is full of interest – live music, fast cars, new products, fine people, you name it. I'm here to introduce you to some of my personal highlights but be aware no one can see everything in such a large show, and I will limit myself to twelve stops. So here goes, in no particular order.
NAGRA AUDIO
This may be the best sounding room at the show.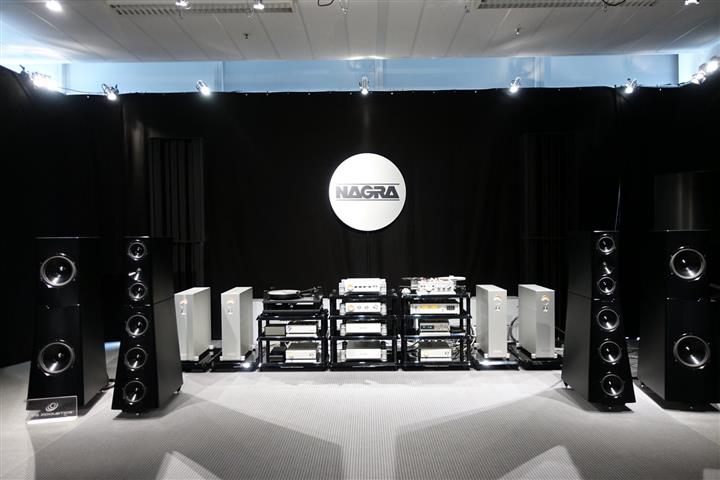 And this is not your grandfather's Nagra. In the last few years I've heard a great improvement in the sound of Nagra electronics. Always superbly built and stunningly designed and primarily a pro-audio company, now the sound matches the looks and consumer audio is gaining traction. Nagra components in this spacious room include the CDP CD Player, the VII recorder, the IV-S reel to reel, the HD DAC X D/A converter, the HD PREAMP and HD AMP (biamping). Partnering the Nagra components is an SME 30/12 turntable with SME V-12 tonearm, an EMT S75 cartridge, and a full loom of Analysis Plus cables. The electronics sit on Modulum vibration control audio racks and platforms. The partnering speakers are the four-column-per-stereo-pair YG Acoustics Sonja XV Jr ($185,500US) with the new YG Acoustics InVincible 21.2 subwoofer, perhaps the most expensive subwoofer ever made at $100,000US.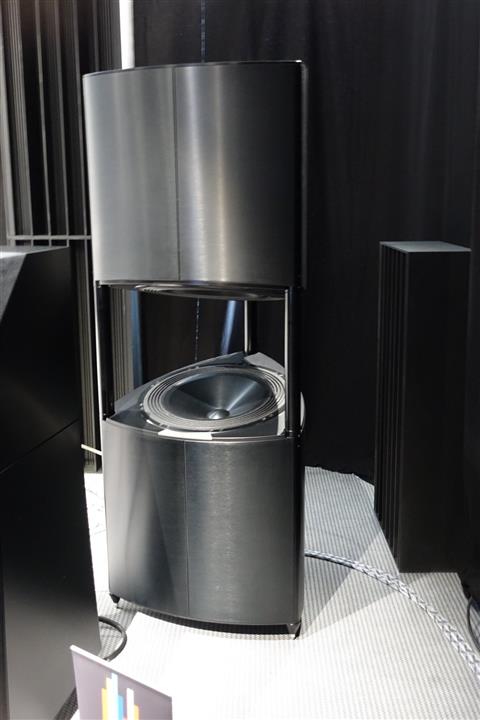 InVincible is available in 3 configurations. InVincible 21.1 is an upward facing single driver unit, 21.1i is a down facing version of that, each priced at $55,000US, and InVincible 21.2 pairs the two together, one above the other. The single 21" BilletCore driver is machined from a 66 pound slab of aircraft-grade aluminum to leave an incredibly stiff cone weighing just under a pound. The built-in amp is a custom Class D module providing 6000 watts. The built in DSP crossover can be configured to partner any high end speaker and has presets for each current and most earlier YG speakers. It shares many features with the Sonja range of speakers, including the sealed enclosure and the box-within-a-box construction. YG's aim is to build a subwoofer of limitless power with the same speed and tone quality of the very best speakers, with output flat down to 20 Hz, not an easy task. A single 21.2 subwoofer will weigh just 462 pounds! You really need a pair of course.
The sound in this room is superbly natural, spacious, detailed and well balanced. It has an ease to it that defines the best of high end audio. Playing here is the tape of Shirley Horn's Satisfy.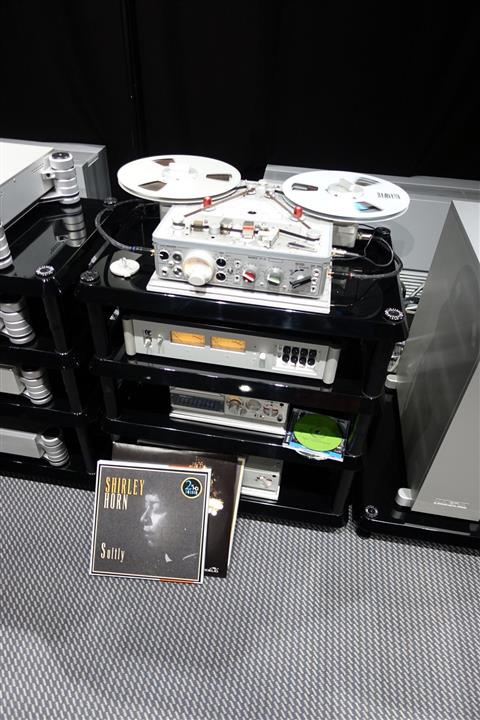 I spoke to Matthieu Latour, Nagra's Marketing Director. He explained some of Nagra's first products that put them on the map. Here is a Nagra IV-S from 1971, used to record music and cinema sound and the first truly portable professional stereo recorder.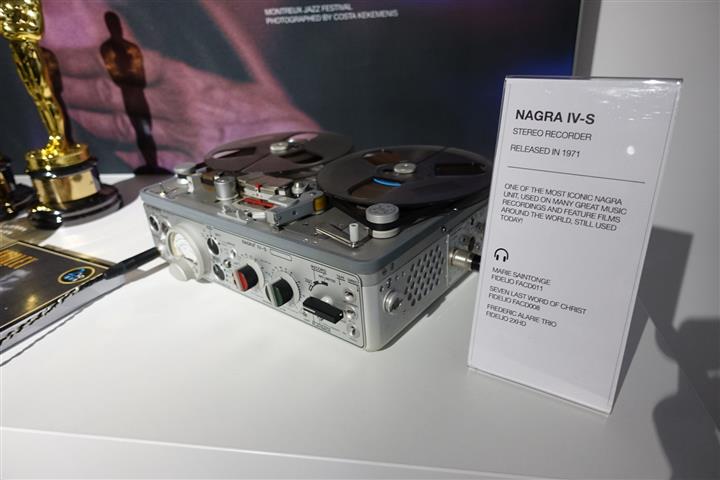 And here Matthieu is showing me the HD PREAMP and the HD DAC-X, each sitting on top of its dedicated power supply.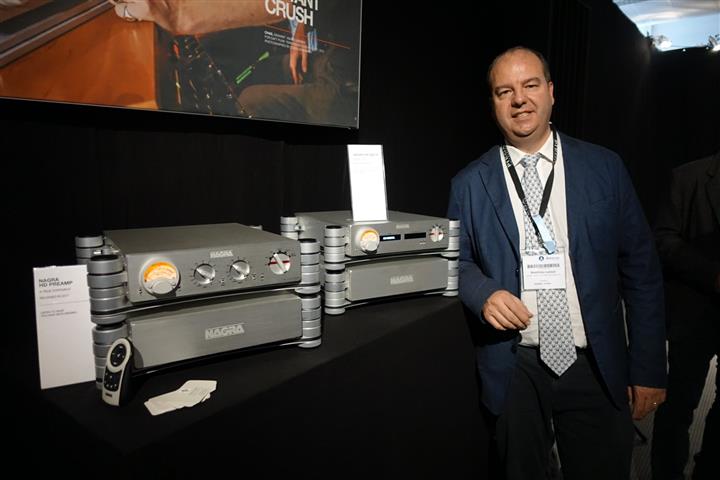 He said it is difficult for a Swiss company to be competitive purely on production costs – it must succeed by superior technical design. Though you might say CH Precision, Soulution Audio, Goldmund, Nagra and others are competitors, they consult together to improve the quality and design of the swiss high end, for example by sharing assessments of particular components such as CD drives or capacitors.
The superb Sonja XV Jr, one from the top of a range of Sonja speakers from YG, is named after founder Yoav Geva's wife Sonja, just as the YG Carmel and Hailey are named after Yoav and Sonja's children. I found Sonja herself in another room at the show and dragged her across the show floor to pose by her namesake. There was a good deal of debate among the YG team as to which was the real Sonja.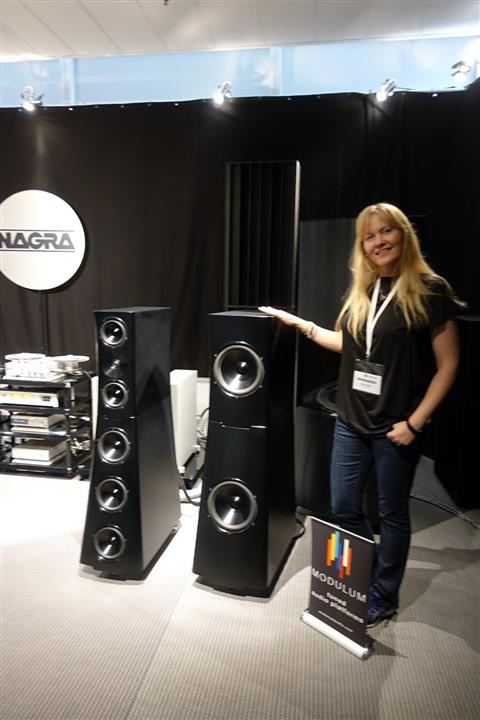 YG Acoustics
This is where I found Yoav and Sonja Geva. This smaller room featured the new Hailey 2.2 speakers. YG has been busy since Yoav handed over the reins of management to David Komatz to concentrate on R&D. The Hailey 2.2 hits the sweet spot in the YG range. It looks identical to the well known Hailey 1.2, but it inherits both the amazing BilletDome tweeter from the Sonja Jr and the exotic ViseCoil bass inductors, bringing this midrange speaker much closer in performance to the class leading Sonja series. I'm going to be reviewing the Hailey 2.2 shortly so I can give you my own take. It certainly sounded well here, driven by Nagra Classic series components. Effortless, colorful and dynamic.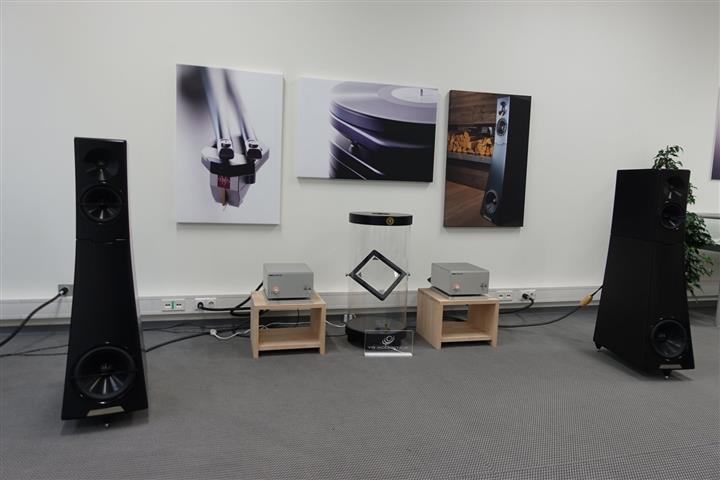 YG Acoustic's Dick Diamond pulled out of his pocket an example of the milled aluminum spaceframe that bonds to the silk dome of the tweeter, massively increasing its bandwidth while lowering distortion components. But the magic achieved after painstaking research and using an excruciatingly complex method of construction is a tweeter that simply doesn't ring, giving it the edge over other exotic metal dome tweeters. So here it is in the palm of my hand.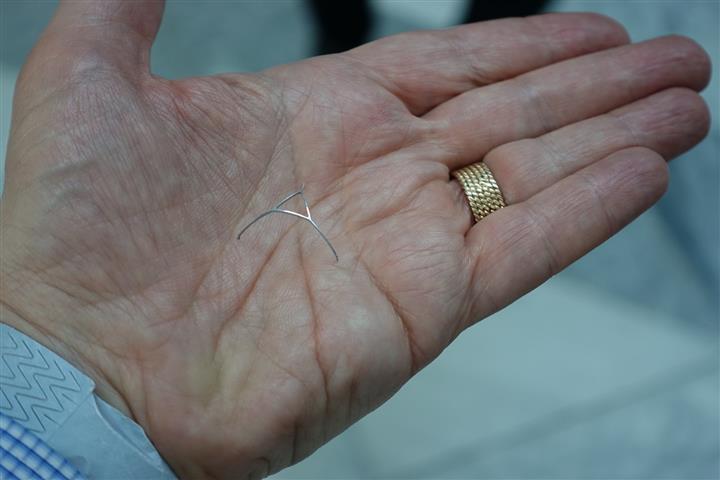 YG also introduced another speaker line, between the entry level Carmel 2 and the new Hailey 2.2 ($46,800 US), and that is the Vantage (clearly Yoav and Sonja have run out of kids). It sits 4" lower than the Hailey, uses a smaller bass driver, and boasts all the same technology except for the exotic BilletDome tweeter. It uses the tweeter from the Carmel 2 and Hailey 1.2 instead, and is offered at a considerably lower price ($32,800 US).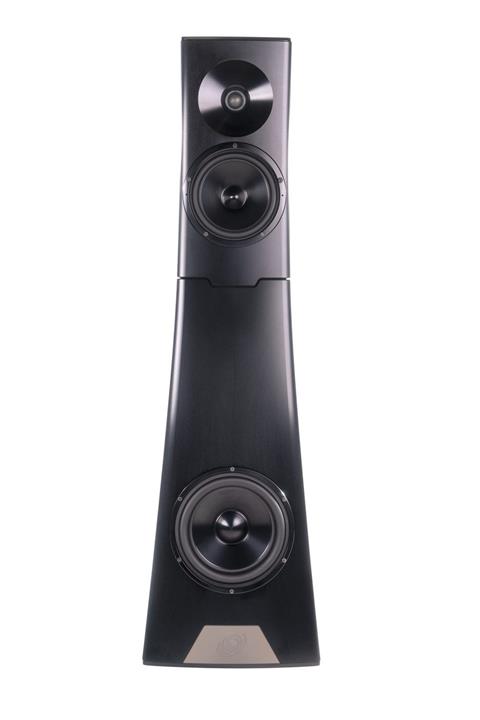 Sadly, I didn't get a chance to see or hear the Vantage. But with three new speakers in 2019 (Hailey 2, InVincible and Vantage), Yoav's return to full time R&D is paying dividends and this small high-end company, based in Denver, is growing steadily.
Bugatti Chiron / Accuton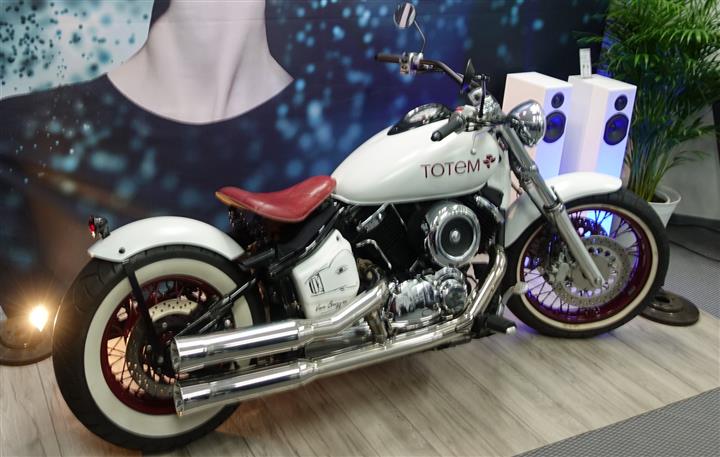 No audio show is complete without a few high end motorbikes and supercars, right?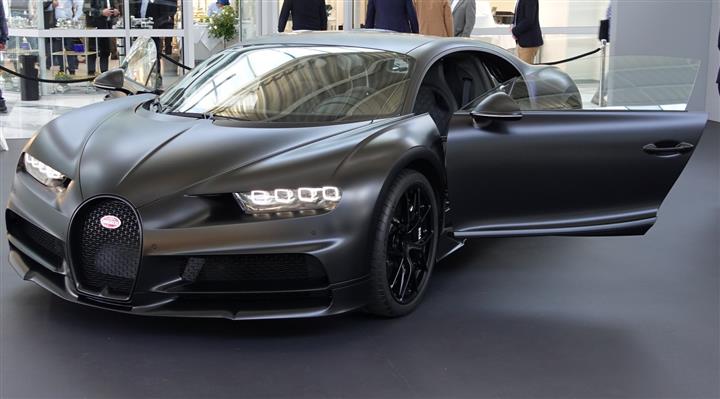 But this one is special. It's the most expensive production car in the world at €3.2 million. And the stereo is truly something special. But rather than coming from a traditional speaker manufacturer Bugatti has partnered with the German driver manufacturer Accuton, best known for its ceramic, aluminum and diamond drivers found in high end speakers from Estelon, Tidal, Marten and Gauder. This is Accuton's first outing in the automobile space, and they were determined to leave no stone unturned to do this right. In fact, what started out as a plan for a €25,000 upgrade from the standard audio system morphed first into a €50,000 option. Ultimately Bugatti was so impressed with Accuton's achievements, they decided to make the Accuton stereo standard! Before I get into how they engineered this marvel, I'll tell you how it sounds. Impressive is the wrong word. Natural and spacious better describe it. The sound field envelops the cockpit.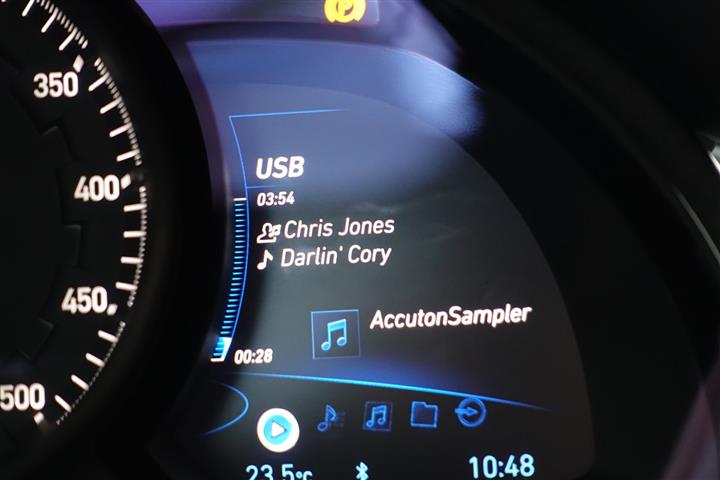 There is none of the usual left-right ping pong with a big hole in the middle. Instead the image floats well away from the physical drive units just as you'd hope to get in a high end home system. The response is smooth across a very wide band of frequencies, and the high frequencies are detailed, extended and fatigue free. So it should be, because it's a very expensive diamond tweeter created specifically for this car, as in fact are all nine drivers. The tweeters are located on the dashboard at the extreme left and right, with two more at the rear, and while they are flush mounted they are clearly visible.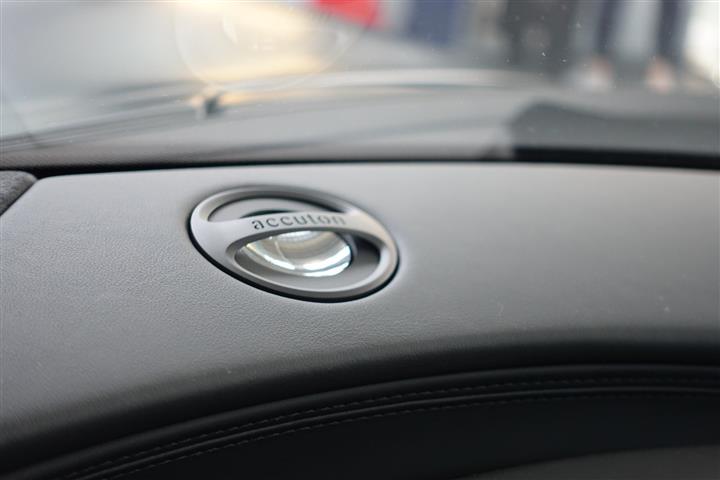 They cover a range from 2,500 Hz to above 50,000 Hz. The three midrange units, covering the range of 80 Hz to 3,000 Hz, use a remarkable dual cone structure to minimize the perforated area in the luxurious leather upholstery.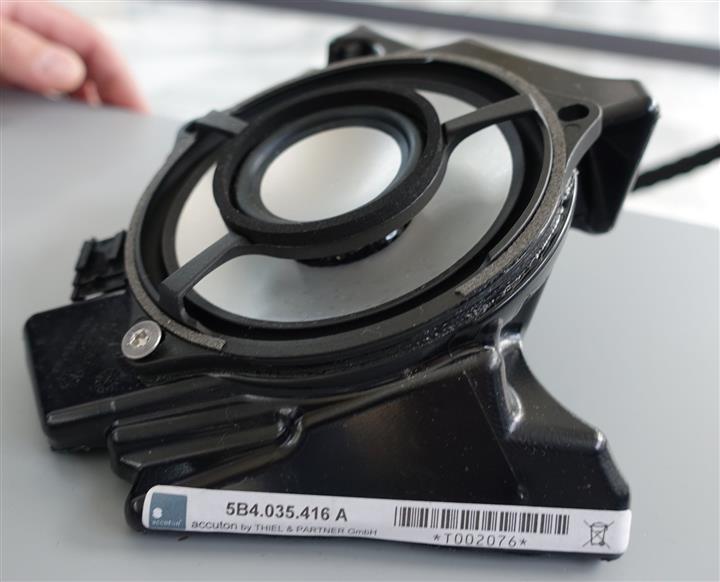 Two are located in the doors, and the third is to the rear between the seats. Can you see where they sit?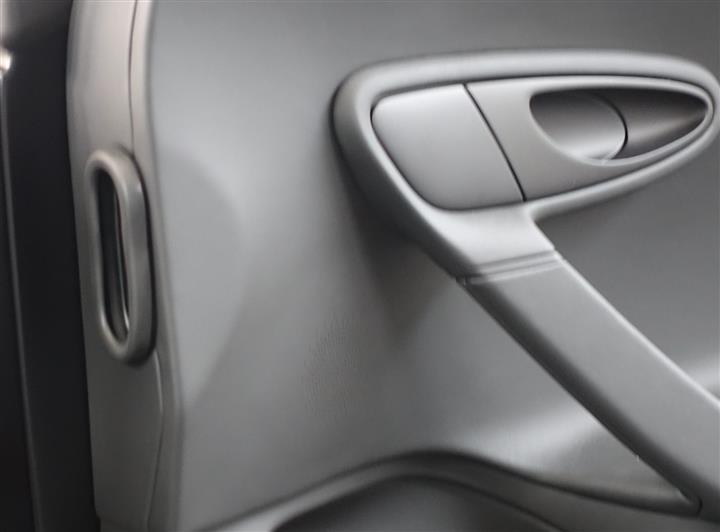 Two dual driver subwoofers are mounted behind the seats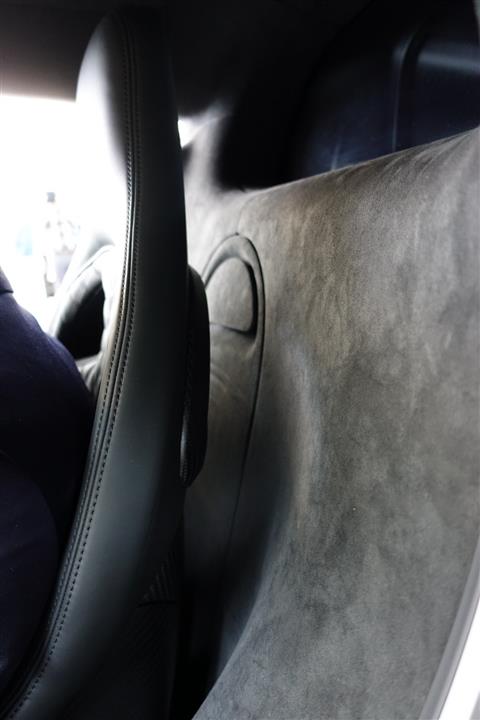 in a specially constructed shallow box.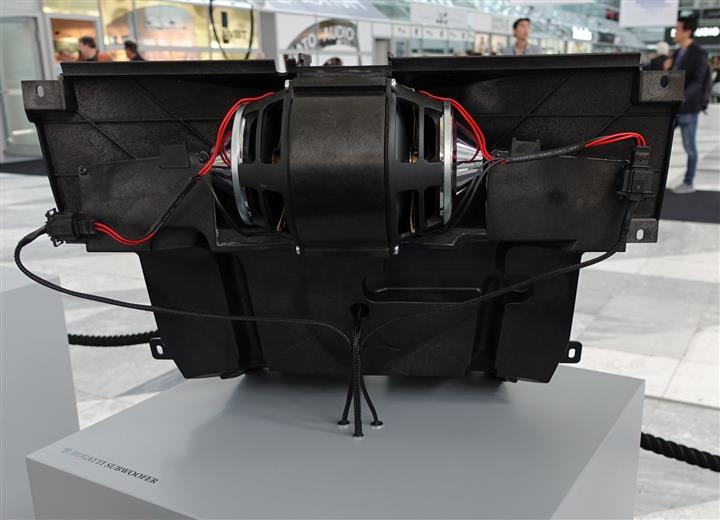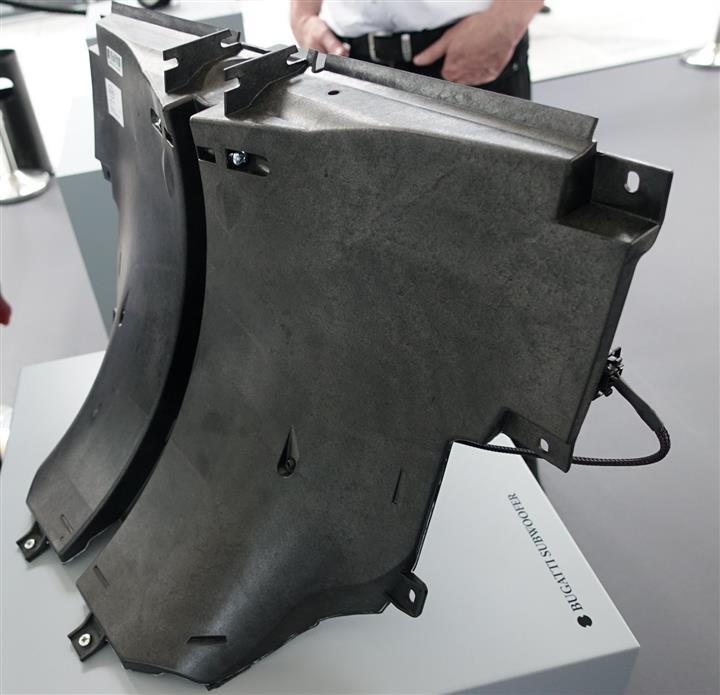 Chief Designer Dirk Vaehsen spent over a hundred hours fine tuning the DSP based system in the car after the computer aided design was complete. Dirk told me a funny story. Since the car emits a lovely low rumble when the engine is spinning, he offered to put a two way switch into the system to optimize the sound for engine off and engine on. Bugatti declined, so Dirk optimized the system's presets for just one of those situations. To my surprise it was for engine off. Most of these cars are simply not driven, he told me. They are an investment. They sit in a garage or a dedicated space and owners admire them and sit in them but rarely if ever take them for a spin. And just to make sure I didn't scratch anything, before I could even sit in the car I had to take off my shoes and empty my pockets. Little did they know I wear brass socks!
Accuton is happy with its business model, expanding steadily every year, investing a lot of energy and money into perfecting its drivers and pioneering new materials and construction methods. I saw some drivers that are in development or about to be released which confirm their strong R&D credentials. For example, they have been researching why woofers usually lag behind tweeters in wave propagation, obliging speaker manufacturers to recess tweeters into their cabinets or take other electronic measures to time-align them. They traced this delay to elements in the physical construction of drivers which they have now addressed so it is no longer necessary to take such correction measures. Impressive.
Now back to the car. That's Dirk with me and the Chiron.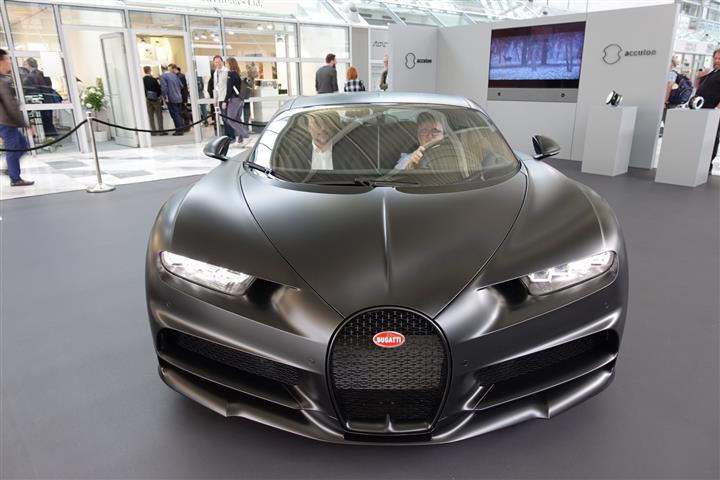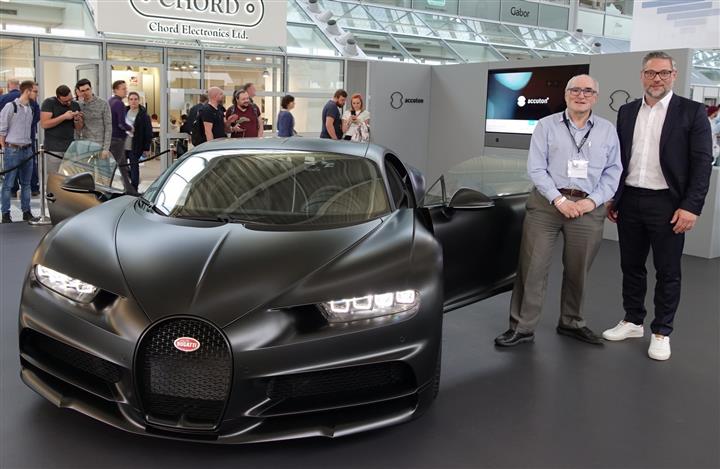 Fifteen hundred horsepower should be enough for me, especially on the streets of Toronto. What a shame we couldn't take it out for a spin.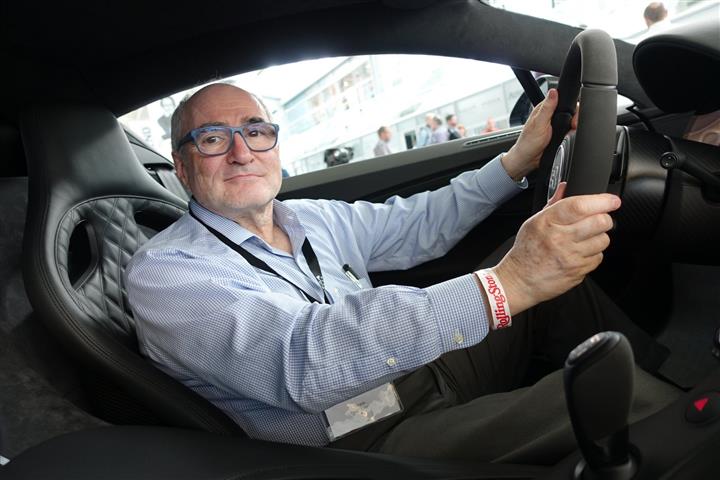 Audionet HUMBOLDT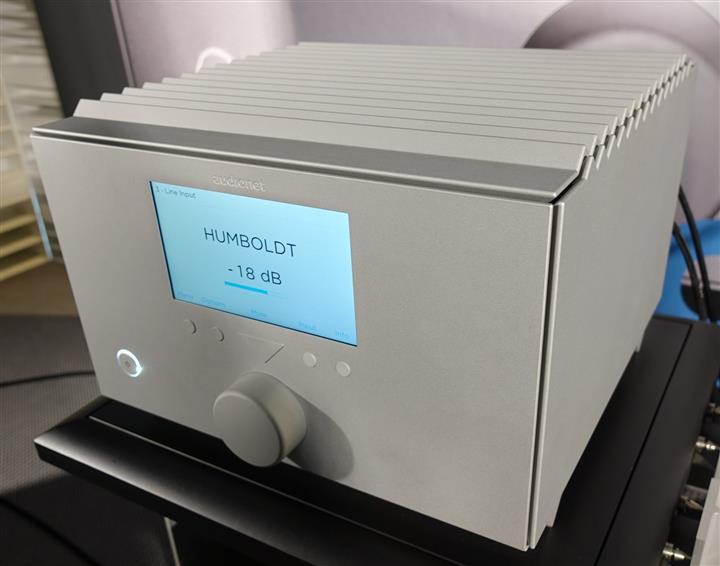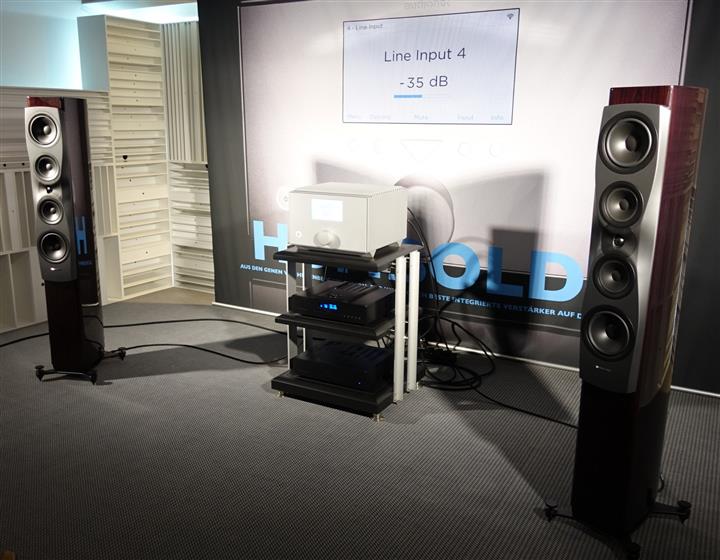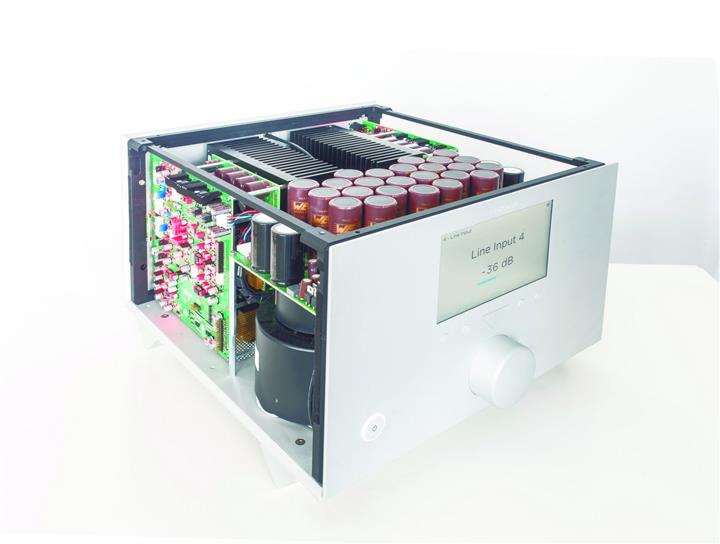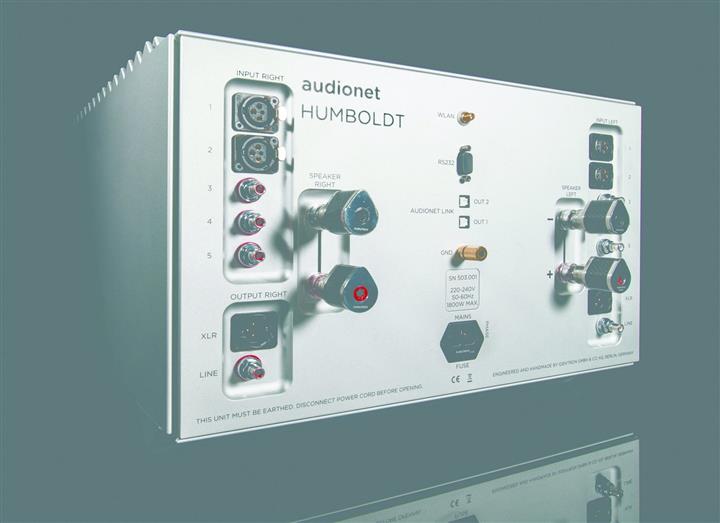 This German manufacturer has gained a lot of traction in the high end through its well known MAX and AMP monoblocs and PRE preamps. They recently upped the ante with the STERN preamp and HEISENBERG power amps, named after the famous scientists. Extremely expensive machines (their word), STERN and HEISENBERG vie for top place in high end audio amplification. So it was a real treat to see the brand new HUMBOLDT integrated amp which attempts to combine these two components into one box (instead of three). Of course, the maximum output does not match the separates, but the price is just a small fraction too at €42,000. HUMBOLD will ship in August. Although I didn't see inside, I'm told that large box is crammed full of componentry. HUMBOLDT was paired with brand new Dynaudio Confidence 50 speakers which were not yet run in, but still sounding spacious, detailed and capable of fleshing out a large stable image.
How much are you giving up here? HEISENBERG offers 530W into 8 ohms, 1050W into 4 ohms or 2100W into 2 ohms. HUMBOLDT offers 250 wpc into 8 ohms or 380 wpc into 4 ohms. It weighs a mere 61 kilos. The 3 separates total 170 kilos. So if you're in a smaller room with reasonably efficient speakers, HUMBOLD may be perfect, but if you're driving difficult or inefficient loads, the separates may be the better match and will offer an even more refined sound.
Either way, these components have a very modern and distinctive look to them that spells industrial design. Features of the HUMBOLDT include silver or black finish, double mono power supplies and circuitry, no ferro magnetic materials for magnetically and capacitively optimized circuits, floating pane design for temperature stability and to avoid microphonic effects, galvanic separation of all analog circuits by opto-couplers, microprocessor control and the list goes on.