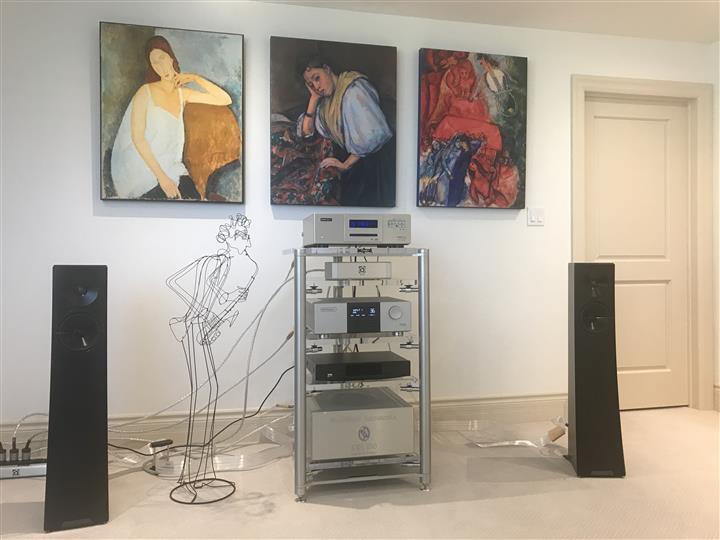 After 30 years of living in a suburban two storey house, my wife and I decided to move downtown and into an apartment. We each had specific requirements. Mine included a dedicated listening space. That was one of her requirements too – that I should have a dedicated listening space, so she should not be disturbed while I was listening.
We spent over a year checking out building after building. Eventually we found one we both liked, walking distance to the center of town, close to all amenities and transit, on a quiet cul-de-sac and backing onto a large park. There was a den that could be repurposed into a room to suit my listening and reviewing requirements, just over 17' by 14' with a high tiered ceiling. I thought this could work. I'm going to tell you what it took to transform the room into an decent listening space.
Before doing any work, I sent the two rough sketches illustrated here to Yoav Geva, founder of YG Acoustics.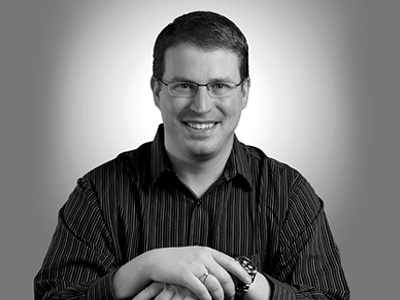 Yoav designed the YG Acoustics Carmel 2 speakers that are my current reference, and he knows a thing or two about setting up a room. One sketch showed the speakers along the shorter wall, the conventional configuration, and the other along the longer wall.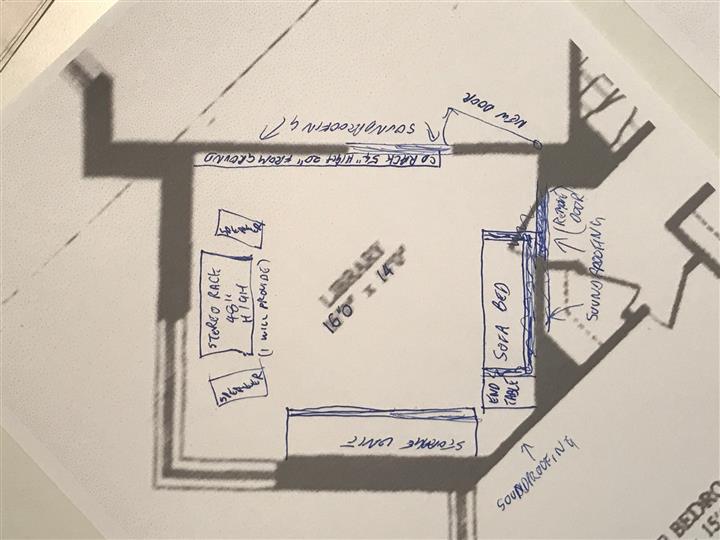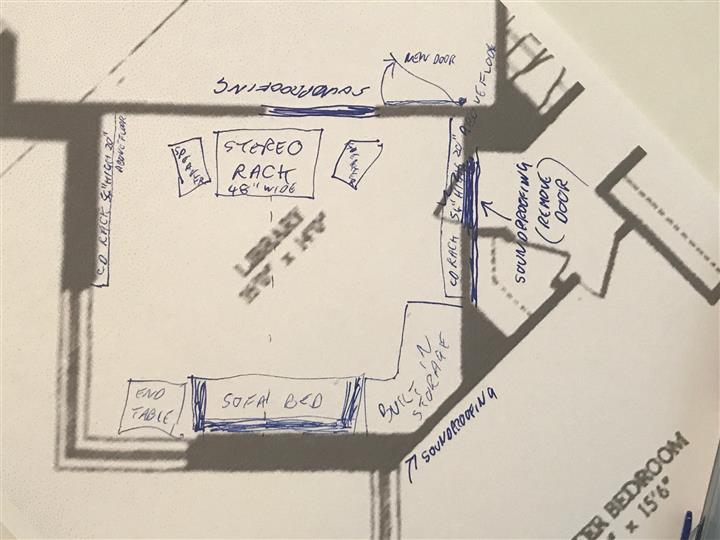 "Positioning along the long wall is definitely the better option." He replied without hesitation. That confirmed my own thoughts and allowed me to start planning. I would have three objectives in mind:
Great acoustics
Sound isolation
The room must double as an occasional guest room
The room was unusable as it stood, since the only door would be just behind one speaker, and there were heavy built-in shelving units biting into the limited space available. My contractor would need to remove all the built-ins. Next to go was the sliding door. We would rebuild the wall there and create a new more conventional door at the end of that wall, well away from the audio system. We toyed with using an exterior door which would have the best sound insulation properties but settled for a solid wooden door with a bottom seal. We realized we could compromise somewhat on the sound proofing, as long as it reduced most of the sound spillover. We could not introduce an ugly exterior door which would open into the living room. We designed the door to open outwards from the sound room to maximise the available space in the sound room.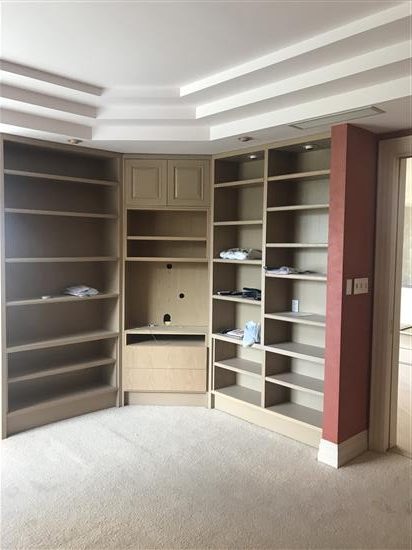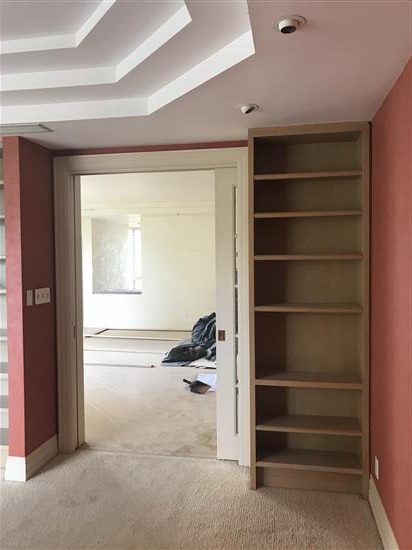 At this point I shared my plans with a Texas based company that specializes in treating studios and soundrooms and who featured a testimonial from The Absolute Sound's Bob Harley in their advertising. AIso, I contacted Bob for his opinion. He wasn't aware he was being quoted in this company's ads, and he cautioned me against too much treatment which can overdamp a room. The pirce tag on the recommended treatment was also rather high so we decided to just do the sound proofing at this time, and worry about the acoustics later.
The treatment we chose involved painting a layer of Green Glue Noiseproofing Material over the first layer of half inch drywall, then applying a second layer of drywall on top. One complication. The previous owners had applied stucco to the walls, not just here but throughout the apartment. You cannot soundproof with Green Glue over stucco walls. We wanted to get rid of it throughout the apartment anyway. It proved murder to remove, and created a ton of dust. Fortunately, we were living in our old house at the time so we didn't have to breath the air on a daily basis, but we did need to bring in industrial cleaners to clean up after the stucco was gone. We only had to apply the Green Glue on the two interior walls of course, but we also had to take great care with the electrical sockets to make sure sound would not leak through there. Yes, you can still hear music through the interior walls, but the level is so much lower it is no problem for my wife unless I'm doing some kind of stress testing. In a building with concrete floors, we have not heard any complaint from the neighbours so I think we have met our objectives there.
A word about power. I'm not sure how much difference dedicated power lines provide (editor's note: a lot actually!  Please check out our article on this topic HERE), but I wasn't taking any chances. I asked the electrician to install two Furutech GTX-D NCF duplex outputs with GTX wallplates, and 105D duplex cover plates and run two dedicated lines to the main power supply of the building, bypassing my power panel completely.
But getting excellent sound into the room is a different story. The basic shape of the room is good, although not quite the golden ratio that some consider ideal. There's some minor asymmetry with windows around one corner and a beveled corner facing it. But from certain parts of the room your own voice sounds unnatural as it bounces between the two bare long walls. So we need to break it up a little. A rough surface on the two side walls was created by building two enormous CD racks with a total capacity of around 5000 discs. You can't buy things like this, but I have a friend Gene who makes beautiful furniture in his spare time, and he relished the challenge. Now nearly filled with CDs and other objects, the short walls need no further treatment.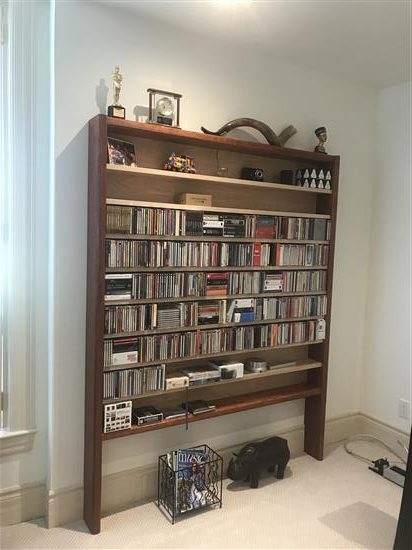 I used the services of one of the best floor covering stores in Toronto to select the optimal carpet and underlay for a busy reviewer. Something that would not be beaten up by the frequently repositioned spikes under the speakers, and something that would provide additional sound insulation while not introducing static. We selected Dura Pad High Density Rubber underlay and Montreal color Misty Morn acrylic carpet. A low pile, soft under the feet and neutral in tone.
Instead of a conventional sofa, we would buy a sofa bed. If you haven't seen what America Leather has to offer, you haven't lived. Supremely comfortable as a sofa and as a bed, it has a mechanism that doesn't cause you risk of injury every time you open or close it. We lined up the center of the sofa to the center of the equipment rack and setup the speakers around it using the exacting techniques espoused by Sumiko in the training session I recently attended in Kansas City. This builds the sound from the bass up and makes the best of any room.