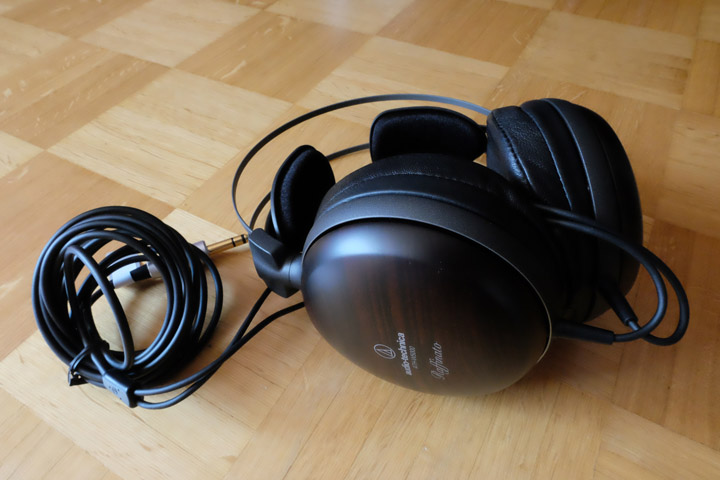 Performance
There are a lot of audiophiles that consider only classical music worthy for the high-end audio realm but, as Bob Dylan stated, "The Times They Are a-Changin'". I started with the song "Trojans", from The Algorithm's Polymorphic Code CD, a crossover between IDM and metal, to test the extremes in frequency response and stereo imaging. A headphone's closed-back design usually implies a narrower stereo image, but these headphones impressed me with their stereo image width and with their definition / spatial localization of every synth layer. The low frequencies were flat and well defined; the mid-range was live and clear and the best description of the highs was "soft".
There's nothing better than drum cymbals to define the high frequencies, so I listened to "The Grudge", from Tool's Lateralus CD, one of the best sounding progressive metal recordings of all time.  I wanted to understand the design concept behind these headphones which was to allow the enjoyment of music for many hours at a time.  Driving this concept, there are two comfort considerations: physical and sonic. I already explained the first (the 3D wing structure), so let's take a look at the second now. The ATH-W5000 has a specific roll-off in the extremely high frequencies that aims to reduce the listening fatigue dramatically, sacrificing some definition in the highest frequencies. The vividness and clarity of the mid-frequencies compensate for this roll-off, making these headphones rock-friendly. Tool offers a lot of dynamics in their music, and the ATH-W5000 managed to deliver the mix between the frequencies and the variations in loudness very clearly to my ears.
Next, I focused on vocal performance by playing a great oldie: Nick Drake's Pink Moon (1977), an acoustic / vocal album that shines with a warm sound, in the FLAC 24bit/88.2kHz format. The ATH-W5000's mid-range is slightly emphasized, so the result was exactly what I expected:  I was presented with the characteristic "tape" warmth in the sound, capturing Nick Drake's one-takes on this album.
Since the Raffinato was great with vocals, my next test was with a newer recording: Adele's 25 CD. Adele's voice had a very live, in-the-room presence that was extremely enjoyable, as if she was singing in front of me. Then, I followed up with whisper soft vocals from Dido's Life For Rent CD, Norah Jones' Come Away With Me (both hi-fi vocals) and Norah Jones' Little Broken Hearts (lo-fi vocals), played from FLAC 24bit/88.2kHz files. If Adele was in my room earlier, Dido and Norah's delicate voices were delivered as if they were singing into my ears. It was impossible not to fall in love with both again.
Next came time for several older recordings.  Listening to Miles Davis' Kind Of Blue (1959) on FLAC 24bit / 88.2kHz files, the spatial localization of every instrument and the clear mids allowed me to rediscover this classic sonically and to enjoy very subtle details such as the smooth brushes of Jimmi Cobb. Following this I played the Led Zeppelin II album and the 2018 re-release of The Beatles' White Album, both from FLAC 24bit / 96kHz files. The ATH-W5000's excellent instrument separation was highlighted here again, allowing me to enjoy these older songs with a new aural perspective. And the same characteristics made The Beatles' "Revolution 9" an insanely, no-boundary experience.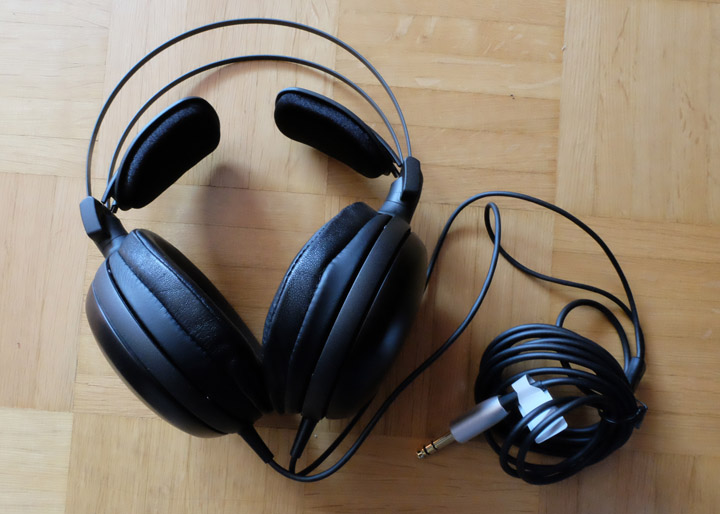 There was just one hiccup I experienced during my tests.  Early during the evaluation, I did some listening using a Pro-Ject Head Box RS headphone amplifier, which has a tube input stage, and discovered that the Raffinatos are not tube-friendly headphones.  The mid-range definition was simply too soft, perhaps due to the even harmonics added by the tubes. Switching over to solid-state components, including the Cambridge Audio Alva Duo preamp and the FiiO X7 Mark II portable hi-res audio player loaded with FLAC files, the mid-range came to life with the full richness that the ATH-W5000 are capable of.
Conclusion
Between their physical and sonic characteristics, the ATH-W5000 are made for a superbly comfortable listening experience.  Physically, their 3D wing structure reduces the usual feeling of tightness.  Sonically, their high frequency response was modeled to drastically reduce listening fatigue. Overall, they sounded balanced, accurate, free of distortion, and very revealing. Once in a while I discover an audio product that entices me to rediscover music I listened to many years ago – the Raffinato headphones were definitely one of these great products.
But you don't have to listen to the Raffinatos only at home.  Their low impedance of 40 ohms makes these headphones portable device / smartphone friendly and their high-quality hard case will protect them during your travels.  The included accessories also hint that you should take them on the road: a replaceable / detachable cable, a shorter accessory cable, and the usual 3.5 mm plug with a 6.3 mm adaptor. By saying that they are travel friendly I'm not referring just to their good noise suppression and accessories – I imagine a professional enjoying music at their hotel at the end of a work day, in style and comfort.
Review system: Yamaha CD-S300 compact disc player with Pure Direct output; Yamaha R-S300 solid state amplifier with Pure Direct output; Steinberg UR22 24 bit/192 kHz audio interface; Cambridge Audio Alva Duo preamp; Pro-Ject Head Box RS and FiiO X7 Mark II portable hi-res audio player.
Audio-Technica
www.audio-technica.com
Price: $1,199 US