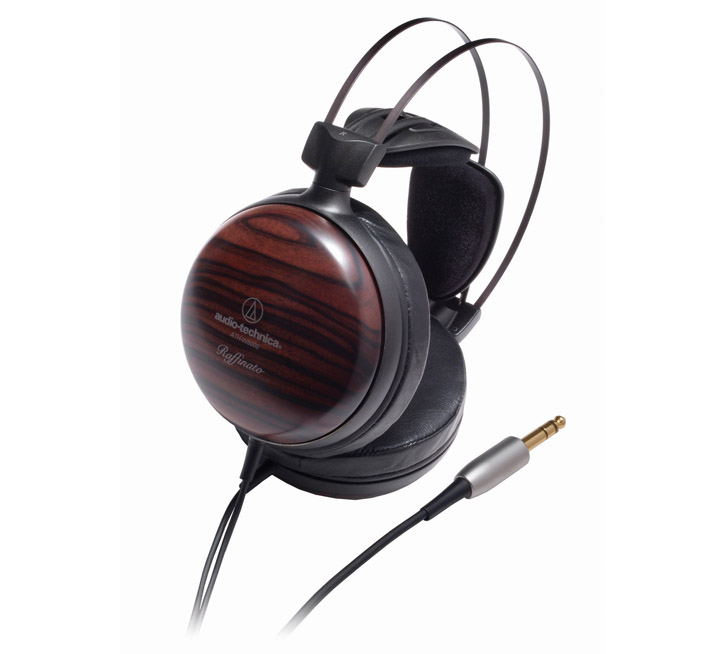 Established in Japan in 1962, Audio-Technica is a worldwide group of companies devoted to the design, manufacture, marketing, and distribution of audio equipment. Initially known for state-of-the-art phonograph cartridges, Audio-Technica now creates high-performance microphones, headphones, wireless systems, mixers, and electronic products for home and professional use. Winner of numerous industry awards, Audio-Technica manufactures products that set quality, durability and price / performance standards for live sound tours, broadcast and recording studios, corporate and government facilities, house-of-worship venues, and more. The company's consumer audio products include moving coil phono cartridges, such as the AT-ART1000 (with external coils), reference open-back headphones, like the ATH-ADX5000, and wooden closed-back headphones, such as the ATH-L5000 and the ATH-W5000, reviewed here.
Product description
The ATH-W5000 ($1,199 US) falls just below the company's flagship ATH-L5000 ($3,999 US), both wooden closed-back headphones. At first glance, the word that best describes them is luxury: their sturdy travel / storage hard case with velvet-covered molded padding interior keeps the headphones firmly and carefully, and their 3D wing structure and the ebony ear cups give them a unique look.
One of the most interesting things about the ATH-W5000 is the use of head paddles (something the company called a 3D wing structure) that adjust to the listener's head.  This structure replaces the traditional adjustable, padded headband found in most headphones, and reduces the usual feeling of tightness. The soft paddles are meant to rest against the head and provide maximum comfort. This system relies on the width of the listener's head, and considering the fixed width between the ear cups and the non-adjustable magnesium alloy headband, I strongly recommend trying these headphones on before buying – to make sure that there are no gaps between the ear cups and your ears.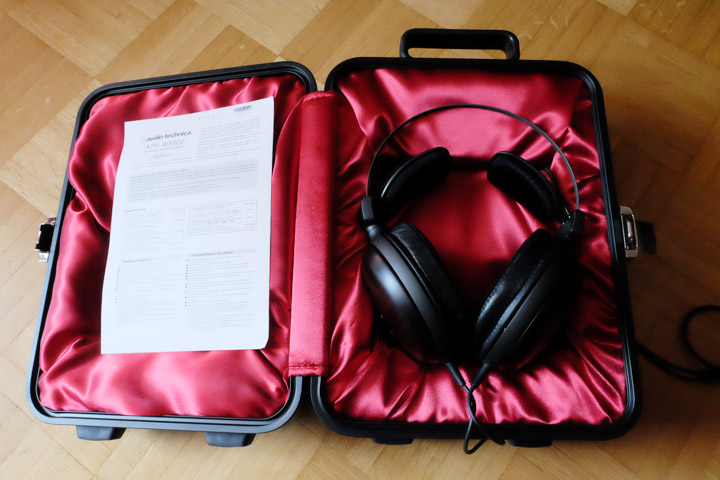 The Raffinato are circumaural headphones, which means that they encompass the entire ear when worn. The ear cup housings are made of striped ebony wood. Hard ebony wood is the secret for crisp, quality sound over the entire frequency range. Striped ebony wood is a heavy, hardwood that provides superb acoustic characteristics and has been used in the production of musical instruments for many years. Striped ebony wood has ring-like patterns consisting of hard, black layers and softer layers. The two layers of different hardness mutually suppress resonance and achieve an excellent damping of air to improve the linearity of the bass. This damping effect keeps the housing from vibrating, thus realizing high-quality sound, free from impurities. Since this patterned ebony wood is a natural wood, each housing has different patterns. To enhance the beautiful grains of wood, only a clear coat is applied to the housing surface.
Since ebony wood is heavier than other materials, each housing adopts a slim design with light magnesium-alloy joints and frame to keep the weight to just 340 g. The W5000's exclusively designed 53 mm drivers (quite large for a pair of headphones) incorporate a Permendur magnetic circuit (50% cobalt, 50% iron) and an OFC8N bobbin-wound voice coil. Inside the ear cups, a DADS (Double Air Damping System) structure achieves a more linear sound. The input cable consists of a 3 m long fixed Y-cord (dual-sided design) featuring an elastomer sheath that helps prevent tangles and a four-core cable containing OFC6N+Hi-OFC hybrid conductors. Considering the low 40 ohm impedance of these headphones, I would have preferred to see a 3.5 mm plug on the cable with a 6.3 mm adapter (rather than the 6.3 mm plug) and a detachable cable, as this would make them friendlier when used with portable music players. To achieve durability with a soft feel, the earpads are made of lambskin imported from Spain, so the "Raffinato" (which means refined, in Italian) printed on the housings is a term that really fits here.