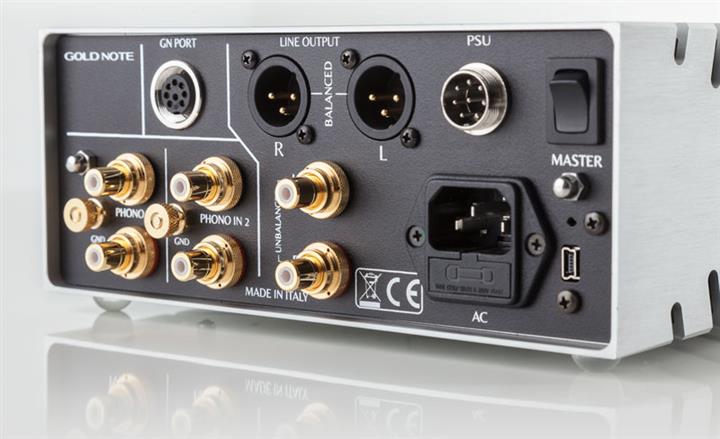 Listening Tests:
Released in 1996, Diane Schuur's Love Walked In is a superb collection of reworked tunes by George and Ira Gershwin, Irving Berlin, Jay Livingston, and Sammy Cahn. On songs like "Time After Time", "Say It Isn't So", "Blue Gardenia", "Never Let Me Go", "Sunday Kind of Love", and the title track "Love Walked In", Schuur delivers sublime vocals.
The sonics on my original 150 gram pressing are superb. Gold Note's PH-10 + PSU-10 combo offered superb low-level detail retrieval, deeper resolution, greater harmonic richness, and better dynamics than any sub-$5K USD level phono pre-amp I've previously listened to. Hearing Schuur's subtle shadings and impassioned vocals reproduced like this was a musical epiphany.
The PH-10 created a large soundstage that was a bit broader and deeper, with even more distinct layering, than my battle-savvy SFI Phono-1 SE. Within this spacious 3-dimensional sonic landscape, individual instruments were reproduced with precise spacing and positioning.
I was impressed by the PH-10's harmonic accuracy too; especially with the texture and immediacy of Schuur's vocals. I've rarely if ever heard the songs on Love sound so vibrant and alive.
Released in 1985, Robert Plant's Shaken'n'Stirred is an odd collection of quirky songs like "Hip to Hoo", "Kallalou Kallalou", "Too Loud", "Trouble Your Money", and "Sixes and Sevens". Most of the tunes on this album are disposable rubbish. And yet, there's one particular track that makes this a must have record. That song opens side 'B' on the record and is called "Little by Little".
Gold Note's PH-10 + PSU-10 combo let me hear the incredible PRaT, groove, and texture of "Little". The amount of air and space between the bass, keyboards, guitars, and Plant's soaring vocals heard on this track left me with shivering goosebumps.
Across the frequency registers, the PH-10 sounded precise, accurate, and engaging. In particular, the texture of Plant's voice was articulate and mesmerizing. The exceptional low-level detail recovery and timbral accuracy of the PH-10 allowed Plant's churning and desperate vocals to come surging forth with a breathtaking immediacy and a palpable sense of purpose. The sonics on "Little by Little" vividly illustrated the PH-10's ability to recreate the propulsive rhythm, infectious groove, and toe-tapping drive of this song.
Conclusion:
Many solid state phono stages exist in the sub-$2K USD price bracket. None of them offer the versatility, upgradeability, and stellar sound quality of Gold Note's $1,500 USD PH-10. Combined with their $1100 USD PSU-10 outboard A/C power supply, in this price range, Gold Note's $2,600 USD flagship phono preamp combo is the best of the best. Nothing — repeat… nothing — at this price point exists that comes equipped with so many different impedance and gain settings, EQ curves, and future-proof upgrade paths. With the PH-10, Gold Note has knocked it out of the park.
For more info, please visit www.goldnote.it