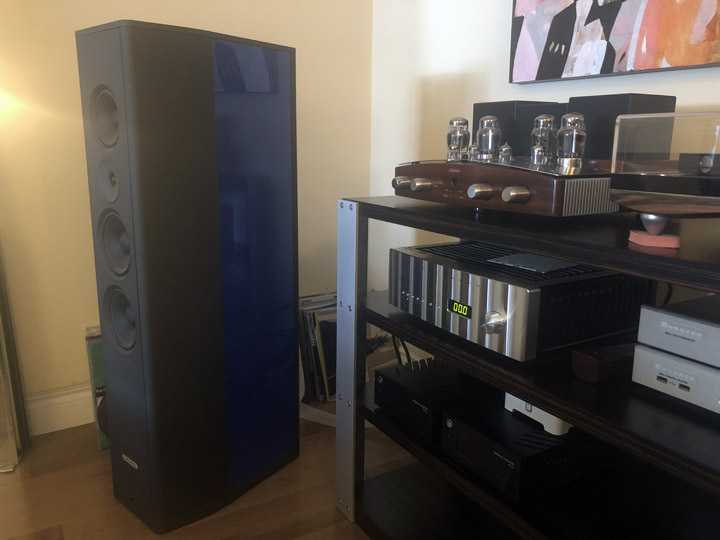 Listening Tests
During my in-depth tests, I listened to a long list of digital files, streamed music and dove deep into my record collection.  I began with a few recently released tracks like "Relentless" and "People's Champ" from Arkells, "Ready to Let Go" from Cage the Elephant, and "Lo/Hi" from The Black Keys.  The Figaro M immediately filled my listening room with an intoxicating energy, placing a great big grin on my face.  It wasn't long before I danced my way out of the armchair and broke out into a full body dance.  The Arkells' tracks teleported me back to the live show I recently watched in Toronto, bring back the memories of the dark stadium filled with dancing, singing, alcohol-fueled fans.  The Figaro M speakers weren't able to recreate the energy of the live show – no speakers are capable of that – but their effortless performance certainly recreated the memory of the concert, and that is definitely a great personality characteristic of a speaker.  The tracks from Cage the Elephant and The Black Keys were equally as engaging – I can't wait to hear the full albums from these bands when they come out.
With the dancing out of my system, I cued up a fine selection of classical music and I reached for my (imaginary) conducting baton.  André Rieu is a Dutch violinist and conductor, responsible for creating the Johann Strauss Orchestra, who presents classical and waltz music, combined with a sprinkling of humor, to the masses with incredible success.  He is the "rock star" of these music genres, filling stadiums around the globe with fans, much like the biggest rock and pops stars of today.  The Figaro M speakers painted an expansive soundstage with great dynamic energy while playing his albums.  The separation between the sections of the orchestra and instruments was excellent, even when the music reached its crescendos. I was able to easily tune myself into any section of the orchestra when I chose to do so. Of course, just as importantly, the recording as a whole was presented with a great cohesiveness, everything presented with perfect timing and pace.  Instruments sounded lively and played with a natural timbre and detailed textures.  High frequencies were presented with a high level of resolution, yet they never tired my ears.  The Figaro M was capable of excellent sound staging with these types of music, although just a touch shy of what I'm accustomed to from my reference Raidho C 1.1 loudspeakers.  To be fair though, the Raidho's are more expensive and bookshelf speakers tend to sound stage better, generally speaking.  Overall, classical music was nothing shy of a great pleasure to listen to on the Figaro M.
So far, so good, but a great speaker has to deliver a convincing vocal performance.  To test this, I turned to various tracks from Florence and the Machine, Johnny Cash, Jack White, and the Sounds of Anarchy soundtrack.  Florence Welch of Florence and the Machine has a remarkable vocal range – and one of the greatest voices in the world of music in my opinion.  I love listening to her MTV Unplugged album, and love playing it for friends.  Some of the tracks send chills down my spine every time I hear them.  The Figaro M was more than up to the task of faithfully reproducing Welch's voice, with a passion and emotion that had me craving more.  Every nuance and quirk of her voice was presented clearly.  The Figaro M captured my attention and wouldn't let go – I couldn't break away from this performance and ended up listening to the whole album.
Where the Figaro M definitely outperformed my Raidho speakers was in the low frequency department.  This speaker dove deep and sang the bass notes very cleanly and I enjoyed every part of it.  Putting its through its paces, I listened to several albums from bands like BORNS, Milky Chance, Florence and the Machine, Prodigy, Collective Soul and the TRON: Legacy soundtrack.  With the various BORNS tracks, the bass was fast and very well articulated.  "The Grid" on TRON: Legacy starts out with a gentle electronic beat and builds up in intensity until it explodes like a star going supernova, energizing the room as it washes over the listening space. Wow – that's all I can say – the Figaro M speakers did a fantastic job here.
During the time the Figaro M spent at my house, I was lucky enough to also listen to its larger brother, the Figaro L, at the Sonic Artistry store.  In this system, the speakers were connected to much higher caliber equipment from Soulution Audio.  As much as I enjoyed what I was hearing in my own room, the performance of this system was several notches up on the "sonic ladder".  This system offered a dramatic increase in sonic details, the soundstage was significantly larger and better defined and the overall presentation was even more energetic.  I am well aware of just how capable the Soulution Audio components are – I've heard them on several occasions and quickly fell in love with their sound.  What really had me impressed though, was the performance of the Figaro L speakers and their ability to relay all the musical information extracted from the music by electronics of this caliber, something that is no easy feat.  This demonstrated that in some ways, the Figaro L was able to punch well above its price point.
Conclusion
The Audio Solutions Figaro M is a fabulous sounding speaker that managed to excite my soul every time I sat down to listen to my favorite tunes.  It performed very well with all genres of music and paired equally well with all the amplifiers that I tried it with.  It's a good sized speaker that requires a decent sized room to fit into, both sonically and visually.  I personally enjoy its textured industrial finish and color glossy panels, although in my listening room I didn't see much of the sides.  If you're looking for an honest performing loudspeaker with a distinctive design  – I definitely recommend you give this one a good listen.  And if this model doesn't fit in your space, or budget, then check out the smaller Figaro S model.  Well done Audio Solutions!
Audio Solutions
www.audiosolutions.lt
Distributed in Canada by
Tri-cell Enterprises
www.tricellenterprises.com
1-800-263-8151
(905) 265-7870
Distributed in the USA by
High End by OZ
www.highendbyoz.com
(424) 344-0011
For all other country distributors, visit www.audiosolutions.lt/distributors
Audio Solutions Figaro M Loudspeakers
Price: $7,500 USD