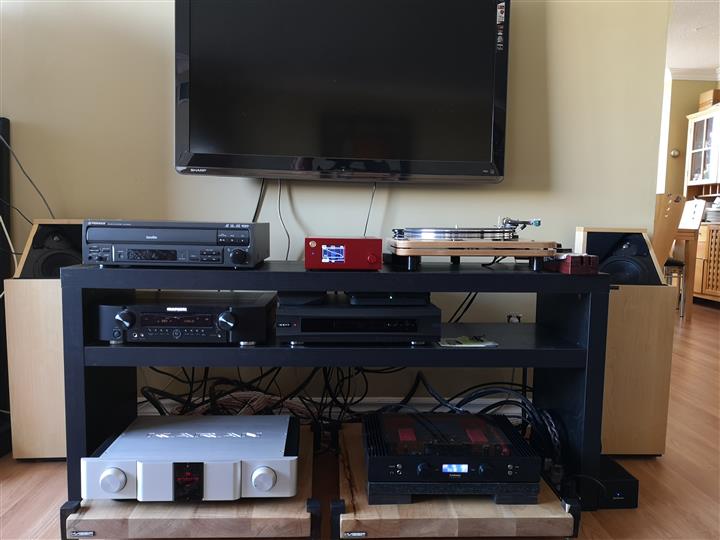 Sound and performance
My first experience with Larsen speakers was at the Toronto Audio Fest back in October of last year. My initial impression of them was that of a sheer amazement. I could not believe the big and spacious sound they were producing in one of Sonic Artistry's hotel exhibit rooms. Due to their unique design, the concept of a "sweet spot" is virtually eliminated, so even when you move to the right or left of the usual "sweet spot", the sound does not change. You get the same clean mid-range and transparent high frequencies. Overall these speakers are more laid back than forward sounding, in terms of sonic presentation.
The same experience was true when I installed the Larsen 6.2 in my living room and began my critical listening over the course of 2 months. During this evaluation period I drove the Larsens with two integrated amplifiers: the Pear Audio Blue Elemental and the Karan Acoustics KA I 180 Mk2. The latter was naturally superior in every aspect, as you would expect from an amp that costs three times as much as the Pear Audio amp, so my impressions below are based on my listening using the Karan Acoustics amplifier.
As an avid vinyl enthusiast, I began with a couple of my favorite records that I often use to evaluate components or speakers. The first record was by a Singaporean vocalist Vanessa Fernandez called "Use Me". It's an extremely well recorded contemporary jazz performance that features very well-known American session musicians, such as Leland Sklar on bass, and Vanessa's beautiful, deep and emotional vocal delivery. From the first notes on the album, the sound filled my living room and created an intimate atmosphere of a recording studio with its unique ambience and sense of space. Instruments were clearly distinguishable within the soundstage with precise imaging. The bass was deep and textured, the mid-range – clean and natural, and the top-end was clear and extended. Vanessa's vocals were very warm and pleasant, with a real sense of presence in the room. Overall the sound of this record was very well balanced, without a hint of being tiring.
Next on the menu was a self-titled 45 rpm 12" EP from an Argentinian group of musicians known as Serà Una Noche. Recorded in an empty church outside of Buenos Aires, it can be easily considered as a reference recording. Although I enjoy all the tracks of this EP, one instrumental track called "Nublado" is my absolute favorite. It is a very delicate, yet dynamic tango track performed on bandoneon, guitar, cello and clarinet, with some percussion and an Indian classical instrument called the tabla. And once again, the Larsens managed to convey the ambience of the recording space – a big empty church. This was essentially a live recording and thanks to the very high quality performance, it was very easy to pinpoint each instrument within the space. A very enjoyable and musical performance.
Switching to the less obscure side of things, I played Chris Botti's live CD "Chris Botti in Boston". Although I love the whole album, a couple of tracks in particular stand out from the rest. One is Josh Groban's cover of Lara Fabian's "Broken Vow".  This turned out to be a very emotional and touching performance, faithfully reproduced by the Larsen speakers. Closing my eyes, I felt as if I was somewhere in the audience with Josh's vocals coming at me from the stage with absolute clarity and Chris' trumpet from further away and to the right of the stage. The second standout track on this recording is the rendition of Ennio Morricone's "Cinema Paradiso" featuring Yo-Yo Ma on cello. Cello is one of my favorite instruments and I particularly enjoyed listening to it on this track thanks to the speakers' ability to present it as a real three dimensional image. I also really enjoyed how the speakers managed to reproduce the sound of trumpet on all the tracks. There was no harshness or distortion of any kind. Having heard Chris Botti live at Roy Thompson Hall in Toronto this past December allowed me to compare it with the reproduction in my system with Larsen speakers.
In my reviews I like to challenge the system with very dynamic and hard to reproduce musical pieces. One such piece is Dmitry Shostakovich's Symphony No.10 in E Minor, "Under Stalin's Shadow", Op. 93, second movement performed by the Boston Symphony Orchestra and conducted by Andris Nelsons. I streamed it in CD quality FLAC from TIDAL. Like other Shostakovich symphonies, this is an extremely challenging piece and I've personally experienced some high end systems struggling with it in the past. In order to faithfully reproduce this piece, you really need a pretty powerful and fast amplifier in addition to capable speakers. Thankfully, Larsen loudspeakers were up to the task and managed to reproduce the explosive dynamics of this track, complete with a ground-shaking bass and huge string and horn sections. A truly stellar performance.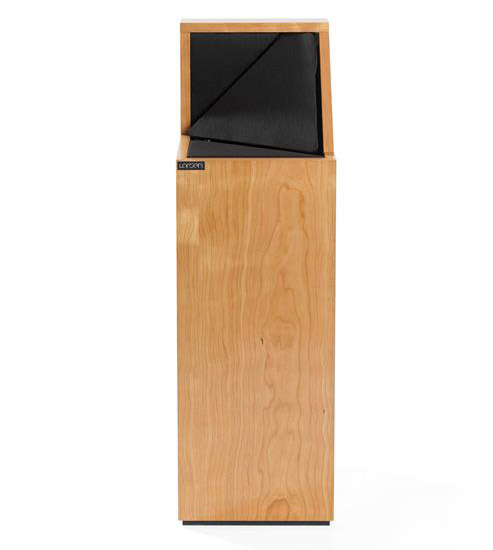 Craving even deeper bass, I played Daft Punk's excellent "Random Access Memories" in Hi-Res FLAC (24-bit – 88.2 kHz) from my Synology NAS server. And once again, the Larsens showed their excellent bass control. Even with these bass heavy tracks, the quality was never compromised. The bass was very well textured and never boomy or washed out.
As a rock and metal fan, I was also curious to hear how the Larsens would handle this kind of music. Due to its nature, metal music is pretty compressed, and the sound often suffers from poor production, especially with lackluster mastering making everything sounding flat. But there are some exceptions of course and one of them is the new single from Swedish progressive metal band "Darkwater" called "Alive Part II". It's a mid-paced powerful track with lots of melody, soaring emotional vocals, yet it is fairly technical due to many odd time signatures and tempo shifts. Lead and rhythm guitars, bass guitar and drums, as well as keyboard and vocals all sounded clear and distinct. And like with other musical genres, the Larsen 6.2 speakers handled this challenge with ease and provided an extremely enjoyable performance.
As I mentioned above, the sound of these speakers does not change as you move parallel to them. What I also noticed is that the sound became a bit more open as I stood up from my listening position and walked around the room. This is attributed to the unique cabinet design and driver positioning. Hence these speakers would work really well for social gatherings or parties, where people move around the room yet can still clearly perceive the music being played.
Having Larsen 6.2 speakers in my system for the past few months provided me with hours and hours of music enjoyment. Throughout my listening tests, they performed extremely well and were up to the challenge with any style of music, from jazz to classical to progressive metal. With their laid-back, very natural, balanced and spacious sound, they can complement any high-end or even mid-range audio system. Thanks to their unique design and sound characteristics, they can be considered a lifestyle product, suitable not only for audiophiles, but for anyone looking to enjoy quality music reproduction in their home without sacrificing aesthetics and living space.
Review system:
Karan Acoustics KA I 180 Mk2 integrated amplifier
Pear Audio Blue Elemental integrated amplifier with built-in MM phono stage
Pear Audio Blue Little John turntable with Cornet 1 tonearm, Hana EH MC cartridge
Gold Note PH-10 phono stage
Brinkmann Nyquist DAC and streamer
Bluesound Node 2 streamer
Synology DS-214 NAS, BubbleUPnP server (with OpenHome renderer), MinimServer
Kirmuss Audio speaker cables
EnKlein XLR and RCA interconnects
BIS Audio power bar/surge protector and power cables
LessLoss C-Marc power cable
Larsen
www.larsenhifi.com
Larsen Model 6.2 Loudspeakers
Price: $4,295 US
Distributed in North America by Audio Skies
310-975-7099
www.audioskies.com