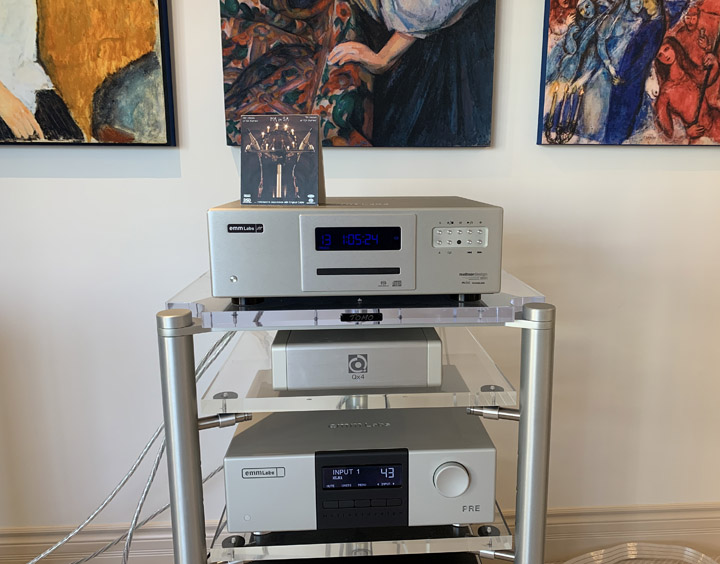 It's a strange world. EMM Labs new Reference Preamplifier is called the PRE ($25k US). Their previous Reference Preamplifier, still available, is the PRE2 ($15k US). The PRE2 is the best sounding preamp I've had in my system prior to the arrival of the PRE. It's as neutral and transparent as they come. Can the new PRE top that? Is it worth the 67% premium?
The new PRE is a much more substantial animal than the PRE2. It measures 438mm x 400mm x 161mm (wdh) and weighs a substantial 17.2kg, compared to the PRE2's 435mm x 400mm x 92mm dimensions and 12kg weight. It has a far more legible display, one you can finally see even in a bright room. The controls are much larger and the finish is altogether more luxurious, matching the new DA2 and DV2 DACs. But the layout front and back follows the same general plan. There are now 3 balanced inputs (up 1) and 3 unbalanced inputs (down 1) and we now have 2 sets of balanced outputs for biamping as well as 1 unbalanced set.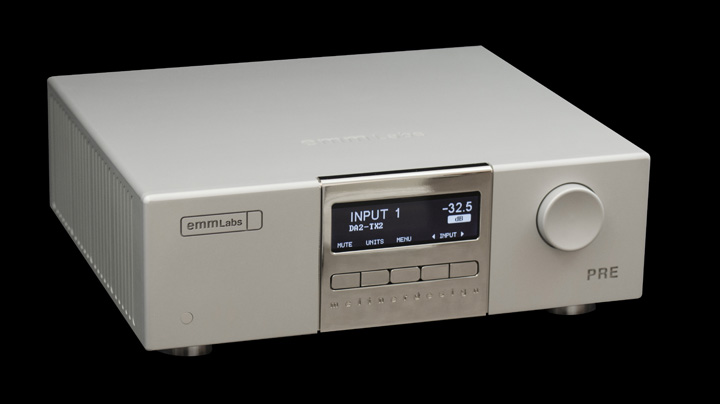 The PRE is Ed Meitner's assault on the state of the art, using everything he has learned about analog circuitry since the PRE2's introduction in 2010. The signal to noise ratio now measures better than 100dB at 4V RMS output (not weighted, 80kHz bandwidth) with THD below 0.004% and a frequency range of 0Hz to 200kHz, significantly improving on the PRE2. The control system now allows programmable input settings and 3 sets of volume presets per input, to suit different types of music. The substantial machined aluminum remote control now offers a soft mute option as well as the standard mute, it allows for selection of the 3 volume levels, and it drops the tape loop which is a PRE2 feature no longer supported. The regulator circuits on the high isolation resonant mode power supply have been improved, while the volume control, vital to the ultimate performance of any preamp, is a sophisticated analog design with a software controlled, precision loudness profile. Amplification is a Class A design with all discrete components.
Listening side by side to the two EMM Labs preamps, I'm convinced the PRE2 remains a great preamp, vanishingly low in distortion, resolving of fine detail, colorful and with no hum or hiss detectable. And it is a better preamp than when it was first released, since EMM Labs have introduced running changes and can upgrade earlier units to current specs. But just as surely, the PRE is a significant leap forward.
What gives? How I can I say the PRE2 is still a great preamp and the PRE a significant leap forward?
To answer that I must first explain why I audition equipment with an emphasis on classical music. First – I do that because only for purely acoustic music is there a clear reference – the sound of the instruments in a great hall. Last night I was at a wonderful concert of the South African a cappella group, Ladysmith Black Mambazo, who you may remember from Paul Simon's Graceland album. Yes, they sang Homeless, and yes, it was great. During the intermission, I mentioned to a colleague how it would have been even better if we could have heard them singing without mikes and amplifiers. "Funny, that's what my husband just said". The mikes and amps certainly ramped up the volume, but we lost the tonality of real voices because concert hall electronics fall far short of audiophile excellence, let alone a perfect sound. In the same venue, the astonishing Koerner Hall at the Royal Conservatory of Music in Toronto, I've heard many acoustic musicians and I love to play their recordings at home to help with my testing.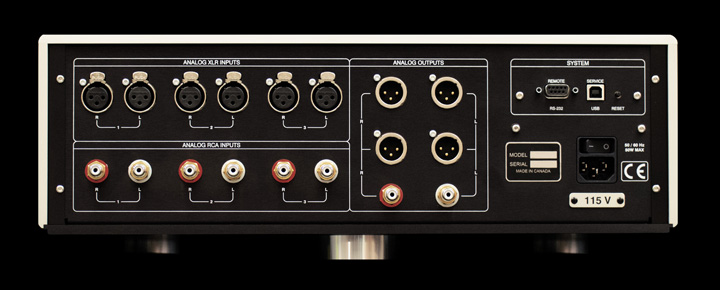 On November 17, 2005, I was fortunate to hear the Borodin String Quartet at another fine hall in Toronto, the George Weston Hall. This quartet was originally formed in Moscow in 1945 by Valentin Berlinsky. The group was on a celebratory tour to celebrate its 60th anniversary, and Berlinsky's 80th birthday and his final performances with the group. They played Shostakovich, Beethoven and Borodin in a concert that is etched in my memory. I remember his wonderful strong cello sound, speaking and sometimes shouting like a human voice. He was the only surviving member of the original quartet and he was a towering influence, not only that day but for decades and for generations of performers and listeners. I've just been listening to the Borodin Quartet's first cycle of the Shostakovich Quartets, available on Chandos Historical (CHAN 10064). This four CD set, recorded in the late sixties, is incomplete, since at the time of the recording, Shostakovich had not finished writing his quartets. But the engineers must have known just how significant this set would be, with the Quartet having studied the works under the composer himself. The recordings are quite remarkable, the performances simply staggering. In the 11th Quartet, written in 1966, Berlinsky's playing has such reserves of strength and even brutality, it would likely overwhelm almost any stereo system out there. What could possibly capture that tone, that dynamic range, the sudden changes from the quietest whisper to terrifying intensity?