Listening Tests:
Released in 1993, Frank Sinatra Duets has excellent sonics that feature Ol' Blue Eyes singing duets with Aretha Franklin, Luther Vandros, Barbra Streisand, Tony Bennett, Natalie Cole, and even U2's Bono.
The word "crooner" doesn't do justice to the singular swinging brilliance of (arguably) the finest American singer in the second half of the entire 20th Century. After learning from Tommy Dorsey and Harry James, Sinatra went and did it his way. You don't like Frank Sinatra? Give this record a listen. Anyone who appreciates male and female voices will love this album.
In terms of dynamics, the LS28 was like a sweet and natural laxative hidden inside of a tasty and textured brownie in that the pre-amp got everything moving. The "feel" of the vocals, immersive soundstaging, and striking dynamic jump of the music all sounded like a real live band was playing in my listening room.
For perspective, I next tried Slayer's landmark 1990 double-live album Decade of Aggression. If this music doesn't increase your heart rate, call a coroner, 'cause you may already be dead.
Like a hell-spawned montagnard cadre of highly caffeinated Energizer bunnies, Slayer have kept going and going and going for decades. After 35+ years of mowing down audiences, Slayer is now in the midst of a multi-year global farewell tour. I recently saw them play live in Kanata (Ottawa) Canada. To see them live is, basically, to see the 3rd circle of Hell open up on earth. Stated emphatically, no one plays as fast and as heavy as Slayer while still imparting rhythm and melody within the music; no one.
In terms of PRaT and dynamics, Decade is a torture test for any stereo system to reproduce. Many pre amps that sound fine with gentle female vocals or delicate Peruvian pan flute solos have strokes, collapse, and—literally—die sputtering deaths when asked to recreate the sternum-fracturing low end slam and blitzkrieg speed of these punishing songs.
On the track "Anti-Christ" for example, right after the blistering lead guitar solo ends, Tom Araya's voice roars forth with a demonic rage. The LS28 did a hero's job of recreating the spine-chilling terror of Araya's white-knuckled roar from the apocalypse. The startling dynamics and nightmarish intimacy of hearing a human being scream with such visceral rage scared the living heck out of me.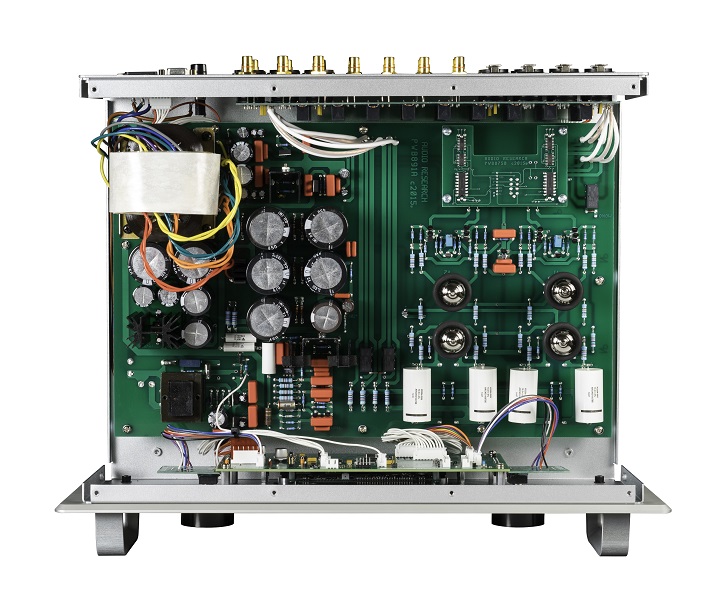 Conclusion:
Audio Research's vacuum tube LS28 pre-amplifier combines sublime sonics with a copious feature set. Beneath the $10K USD retail mark, its sound quality is currently unmatched.
Metaphorically speaking, this pre-amp is like the cat who knows how to have a good time… all of the time. It's a delightful component that's permanently sporting a lampshade on its head. This line stage is so smooth and cool that jazz listens to it to unwind. When I die, I want to be buried with an LS28 lovingly cradled in my arms.
It's exceedingly rare for me to declare that any audio component with a $8,500 USD retail price is under-priced. In my opinion, that's exactly what the LS28 is though: a bargain that offers a sound quality that's way above its asking price.
Audio Research
www.audioresearch.com
Audio Research LS28 Vacuum Tube Pre-amplifier
Price: $8,500 US