Based in Plymouth Minnesota, Audio Research Corporation (ARC) was founded by Bill Johnson in 1970. Just shy of 50 years in business, ARC has accumulated a half-century's worth of expertise in fabricating vacuum tube audio gear. All of their gear is proudly made in the USA. Assessed on reliability, sound quality, and value, Audio Research's gear consistently ranks amongst the best.
When NOVO asked if I'd review ARC's new LS28 vacuum tube line stage, I almost twisted an ankle trying to land an ill-conceived 1968-era Pete Townsend-esque stage jump launched off my front porch's steps. Yep… I was THAT excited.
Product Description:
The LS28 vacuum tube stereo pre-amplifier (MSRP $8,500 USD) is one of ARC's Foundation Series models. It weighs 15.9 lbs and measures 6.5″ high x 19″ wide x 13.7″ deep. My review sample came with a black-on-black anodized chassis and a cool green florescent front panel display. ARC also offers them in silver.
This pre-amp features a Class 'A' circuit with a single gain stage and zero feedback. The analog circuitry is a fully balanced hybrid design that utilizes JFETs and four 6H30 vacuum tubes. The tubes have an estimated lifespan of 4,000 hours.
The front panel has two chrome-highlighted rotary knobs. The left knob selects one of the eight inputs. The right knob controls the volume through a 103-step microprocessor. Below the display screen are six push buttons for Power, Menu, Enter, Mono, Invert, and Mute. The aluminium remote can control all of the front panel's functions too.
Auto Shutdown turns the pre-amp off after a selectable length of inactivity. It can be set for one to eight hours or de-activated entirely. Processor Mode allows integrating the LS28 into any multi-channel Home Theatre system.
Tube Hours tracks the total hours that the LS28's been powered *ON* and provides an exact measure of the burn time on the tubes. Display Brightness offers six different levels of illumination for the florescent display. If desired, the display can be defeated completely.
Volume Reset instructs the LS28 to either: a), remember the volume setting for each input; or b), reset the volume to zero after powering down. Input Naming lets a user customize the name of each input.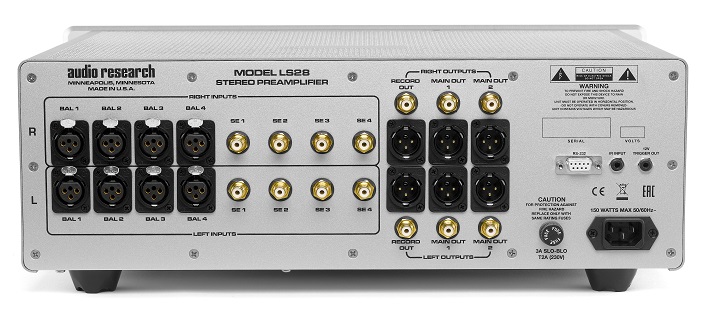 The LS28's rear panel has eight pairs of inputs. It has two pairs of fully balanced XLR outputs and two pairs of RCA single-ended outputs, (four in total). Using the single-ended outputs lowers the gain by 6dB. It also comes with one set of balanced and one set of single-ended outputs for connection to an external recording device. The recording outputs generate a fixed-level signal.
For custom integrators, the unit has an RS-232 input, an IR input with a 1/8″ connector, and a 12V DC trigger. An IEC input allows users to install a higher quality 15Amp A/C cord.
The LS28 is built like an Abrams M1 tank. Its matter-of-fact aesthetics and functional design won't mean a damn thing though if it doesn't have stellar sonics. So… how does this pre-amp sound?
Initial Impressions:
Audio Research ships the tubes in a small internal box inside of a protective foam housing. End-users must unscrew the unit's top cover and install the four 6H30 valves before turning it on. Although ARC provides a generic power cord, to hear this pre-amp sound its best, you should plug in an audiophile grade A/C cable. Prior to going to full power, the unit waits 45 seconds to let the filaments in the tubes gradually warm up and stabilize.
Minutes after powering it up, the LS28 delivered astonishing timbral accuracy and shiver-inducing sonics. For a tube pre, it has a remarkably low noise floor. Compared to a half-dozen solid-state line stages with $10K USD to $20K USD MSRPs, ARC's monster created noticeably superior harmonics, PRaT, and imaging.
On discs I've listened to for decades, the 3-dimensional soundstages constructed by this line stage were as wide and deep as I've ever heard them. Instruments within the soundstage were precisely located too. For 2019, I'm honouring the LS28 with my highly coveted Jennifer Lopez Award for soundstaging, because it has a *big ass* soundstage that's a tactile pleasure to sink right into.
In the highs, the LS28 sounded natural and organic. The attack, sustain, and decay of cymbal strikes and violin arpeggios sounded like real instruments. I detected zero grain, sibilance, or ringing from saxophones, horns, or bells. This line stage shines in its reproduction of midrange sonics too. The shiver-inducing purity of both male and female vocals was a sybaritic joy to hear.
In the lower midrange and bass registers, the LS28 delivered superb bass harmonics and palpable textures. Its dynamic punch and PRaT in the lower frequencies was world class. And yet, the bass never over-powered the midrange or highs. Bass frequencies were presented in a cohesive fashion that was right *there* in the pocket without unnecessarily calling attention to itself.
Shortcomings…? While the stock Sovtek 6H30 tubes in the LS28 created jaw-dropping sonics in the mids and highs, they lacked the weight and body in the lower registers that other 6H30 valves produce. Half the world is looking for God, the other half for more bass. Need more bass…? Try a matched quad of Reflektor 6H30 valves or Electro-Harmonix 6H30-Pi tubes.