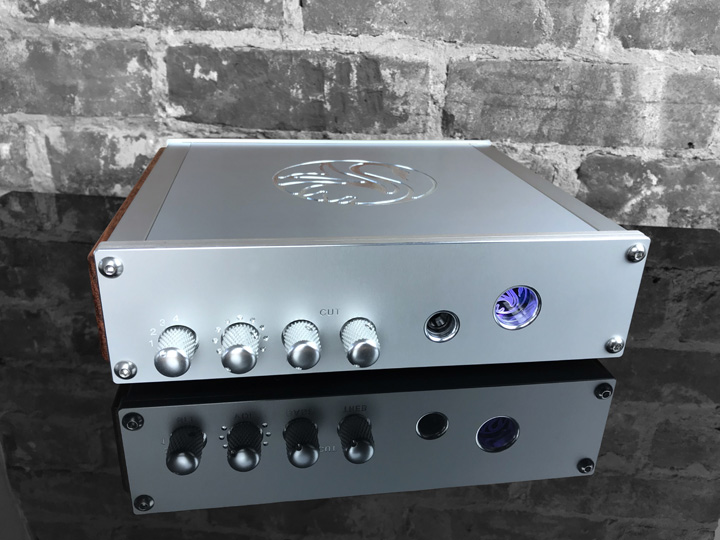 Is your spouse redecorating your listening space in their mind? Do you lust after mortgage priced statement audio gear but your room and wallet size say no? Take heart! There is an alternative. A high-end headphone package can attain all the sonic virtues of the priciest big rigs at a fraction of the cost and occupies almost no floor space. Prepare to trade the shared musical experience for the highest reaches of intimate listening bliss, because Swan Song Audio wants to lift you into that heady performance territory with their spectacular Class A headphone amplifier / preamplifier with a built-in DAC.
Swan Song Audio is a small company, started in 2013, which specializes in handcrafted, premium, high performance audio gear, built for heirloom longevity. Located in Tulsa Oklahoma, it operates in conjunction with 4 other companies to design and manufacture finished products. Working with companies with specialized expertise allows Swan Song to maximize product quality and minimize overhead. Where the R&D is done in house, raw circuit boards are developed and assembled in Denver, metal chassis are machined in Washington, wood sides are crafted at Tulsa cabinets, and even leather wrap for cabinets is locally sourced. These are high grade audio components designed and built to fanatical standards. Direct internet sales and modestly calculated profit margins allow Swan Song to offer these highly desirable musical morsels at an aggressively competitive cost. To quote lead designer, and part owner Tony Crocker, "I won't compromise quality and I want the customer to feel that the price is right for what I'm delivering".  All Swan Song Audio products are built to order and customizable.
Swan Song Audio delves in both tubular as well as solid state persuasion, running a broad range of product, from phono stages to speakers, and manufactures two separate lines. The higher priced Black Swan, aims at absolutes, functioning as an R&D division, without regard to cost and is entirely customizable, while the White Swan utilizes trickle down engineering from its costlier brethren to offer near absolute performance at a more attractive price point. Both Black and White Swan components are built to order, but the White Swan can be completed and shipped in less time.
The  $2,900 US headphone amp/preamp/DAC quite compact, measuring 9.75″ W x 9.25″ deep x 2.25″ tall and weighing in at 6 lbs. The aesthetic is clean upper echelon modern, with luxury enhancements. Construction is thick, anodized aluminum plate, the top panel embellished with a milled company logo, the sides clad in a choice of solid wood panel, and the front panel sporting a backlit logo in your choice of color. The review component came in a luxurious, polished Bubinga. Front control knobs are solid knurled aluminum.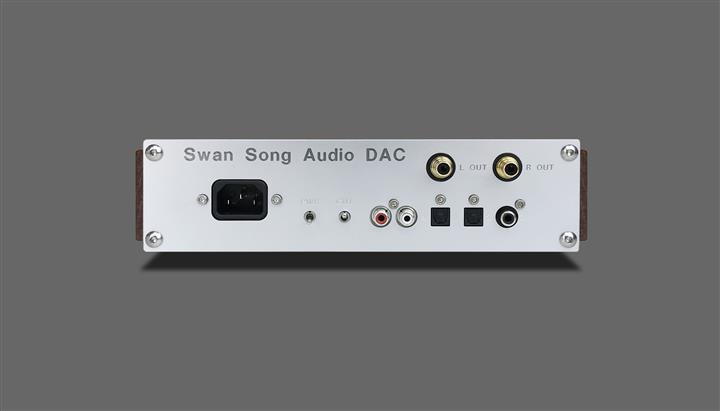 The rear panel houses 2 optical inputs and one coaxial input for digital service, as well as an analog RCA pair. My review sample was not equipped with a USB input but this module is available as an option.  In fact, since Swan Song Audio products are built-to-order, this unit can be ordered in one of four configurations: 1 coaxial input/2 optical inputs/ 1 analog; all analog; phono preamp plus analog; and USB with Bass Boost.  The USB with Bass Boost module can be combined with any of the first 3 choices giving the user 5 inputs.  The preamp output is unbalanced RCA. There are two toggle switches on the rear panel. One is the Power on/off switch, the other labeled "cut" allows reduction of output gain to afford a broader range of volume adjustment.  In other words, this switch alters the range of the volume control potentiometer, allowing the user to make finer volume adjustments with the "cut" switch engaged.  I preferred listening to the unit with the "cut" feature enabled.  A removable 3 prong power cord is supplied, and the unit ships in an upscale, professional molded travel case.
The internal construction is premium, with emphasis placed on extremely low noise throughout, especially in the power supply. Signal gain is separated from the current drive for cleaner amplification, with Class A BJT transistors producing the current to drive the most difficult headphones. The DAC utilizes a Texas Instruments PCM5142 using the Cirrus Logic CS8416 receiver chip to achieve 32/192 capability through the Swan Song's 3 digital inputs, and incorporates extensive isolation, power supply cleaning, and attention to grounding – to combat potential noise.