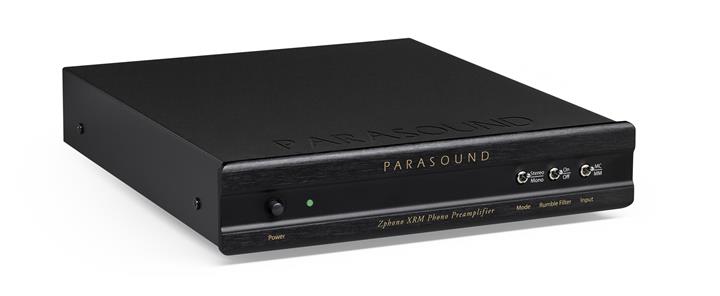 Parasound's new $599 Zphono XRM phono preamplifier bridges the price gap between its entry-level $200 Zphono and internationally acclaimed $1,495 Halo JC 3 Jr. The new model includes balanced XLR outputs, a switchable rumble filter, a mono-stereo switch, plus continuously variable load adjustment for moving coil cartridges. Separate input jacks and independent circuitry for MC and MM cartridges allows it to accommodate two turntables. Like other Parasound Z models, the Zphono XRM uses the company's compact 1U high x 8-1/2 inches wide chassis.
A front panel input switch selects MM and MC input jacks. Each of these jacks has its own circuitry optimized for the cartridge type. This improves the signal-to-noise ratio and overall performance for MM and for both low-output and high-output MC cartridges. A bonus of having separate input jacks with their own circuits is the capability to connect two turntables (or two tonearms mounted on a single turntable). The Stereo/Mono switch combines L and R channels so users can optimize sound quality of mono LPs as well as reducing background noise on worn or poorly stamped pressings. This useful feature is rarely found on even high priced phono preamps, much less at the Zphono XRM's modest price point. Another significant feature is the Rumble Filter switch which selects a steep 18 dB per octave high-pass filter which "cleans up" the low end by preventing feedback from mechanically transmitted vibrations.
The Zphono XRM has gold-plated single-ended RCA output jacks and balanced gold-plated XLR outputs with a high common mode rejection ratio (CMRR) to reject external sources of noise An internal linear high-capacity/low-noise power supply is a a significant improvement over the competitions' typical "wall-wart" power supplies.
The Parasound Zphono XRM will be available by the end of December 2018 with a suggested retail price of $599.
For more information, please see www.parasound.com