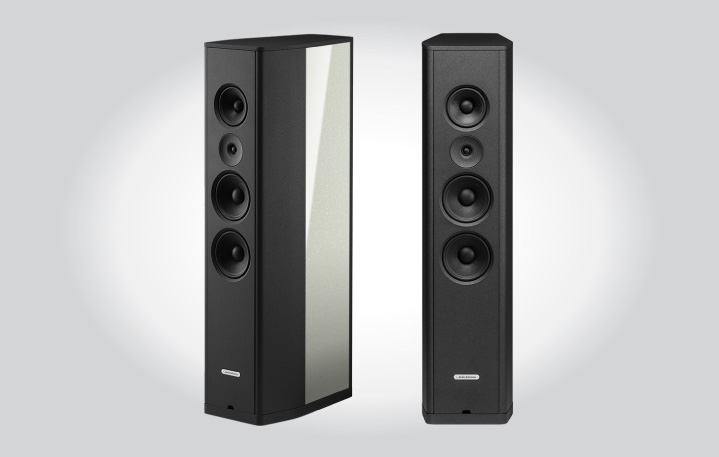 It's always fun to learn about a new audio manufacturer, especially one that manages to impress you with the performance and quality of its products.  I first learned about Audio Solutions from Canadian high-end audio retailer Sonic Artistry who offered to lend me a pair of the company's Figaro M speakers at the end of 2018.  Founded by speaker engineer Gediminas Gaidelis, Audio Solutions is a high-end loudspeaker manufacturer based in Vilnius, Lithuania.  A lot of very interesting high-end audio companies have sprouted in Eastern Europe over the last decade – it's a part of the world that we've been paying closer attention to lately when it comes to audio.  Perhaps that's why Warsaw, Poland has also become host to one of the largest high-end shows in Europe.
Today, Audio Solutions offers five attractively styled product ranges that go under the names Vantage Classic, Vantage 5th Anniversary, Guimbarde, Figaro and Overture.  In the spring of 2019, Audio Solutions will add a sixth line, called Virtuoso, which will sit Visually, I love the styling of the Vantage 5th Anniversary series the most, perhaps because these speakers look like they would fit perfectly into a sci-fi movie like TRON.  Sonic Artistry's owners Jonathan and Ed promised for the Figaro M to deliver a stunning performance to price ratio, but of course they would say that – after all they are a retailer for the brand.  As a reviewer, I hear such promises all the time so naturally I take such statements with a grain of salt.  There is only one way to judge a loudspeaker: you have to give it a good listen.
But first, let's examine the range of products offered by this company.  The Audio Solutions Figaro M loudspeaker hails from company's third-from-the-top series in terms of performance and price.  There are four floor standing models in this series – the Figaro S ($5,750 US), Figaro M ($7,500 US), Figaro L ($10,000 US) and the headlining Figaro XL ($15,000).  The series also includes the Figaro B bookshelf speaker ($3,250 US) as well as the Figaro C center channel ($2,500 US).  The inclusion of a center channel of course indicates that the company intends these speakers for use in both 2-channel music systems and home cinema setups.  All the prices I mentioned are for the standard finish, and like most high-end loudspeaker manufacturers today, Audio Solutions' speakers can be ordered in many custom options – in this case there are 17 custom side-panel colors to choose from.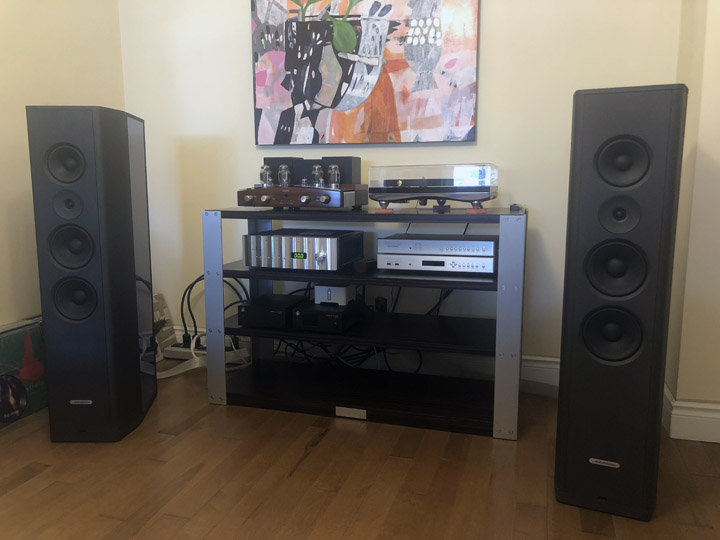 Product Description
It's a little difficult to judge from the pictures on the website but the Figaro M is a pretty good sized speaker, measuring 1120 mm H x 272 mm W x 470 mm D (or 44.1" x 10.7" x 18.5").  Since it is rear-ported, it'll perform best when placed at least a foot or two away from the back wall.  My 12 x 20 foot room was just barely large enough for this speaker and I suspect that giving it more space would allow it to breathe a little better and further improve its sound.  Styling-wise, the Figaro series offers a somewhat industrial look because of its textured, flat dark grey/black finish.  Each side wall of the cabinet is decorated with a glossy panel which covers roughly half the side wall.  These panels can be ordered in a choice of 17 colors/finishes, and include some very attractive 3D textured finishes.  The only trouble is that unless you place these speakers in a large enough room, where you'll be able to see the sides, in most rooms, you'll likely mostly see the front of the cabinet and hence won't be able to enjoy the beauty of the custom side panels.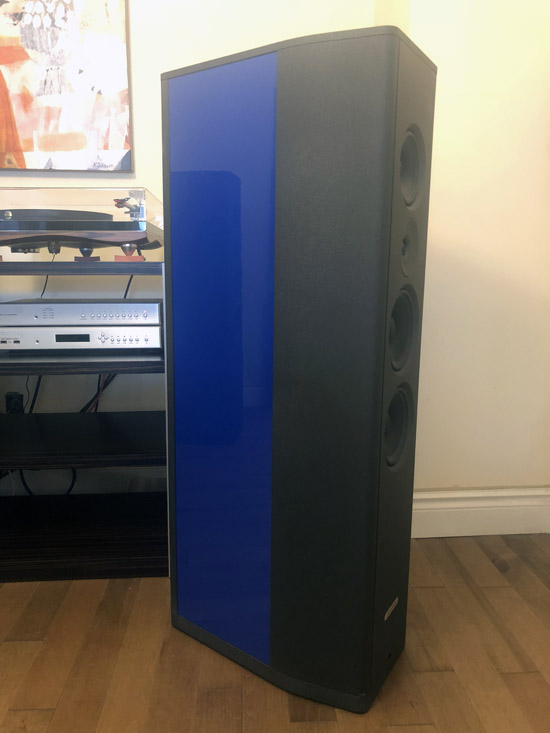 From a technical standpoint, the Figaro M offers a 3-way design, with the midrange driver playing a slightly wider range of frequencies than more traditional designs, to reduce crossover distortion in this most-critical region of the frequency range.  The 3-way design approach means that no crossovers sit where human hearing is most sensitive, in the 800 – 2000 Hz range. Sonically, this allows Audio Solutions speakers to achieve a cleaner, more detailed midrange sound.  From top to bottom, the front baffle houses a 15.2 cm ER paper cone mid-range driver, a 2.5 cm mini-horn loaded silk dome tweeter, and two 18.3 cm ER paper cone bass drivers.  Its key specifications include: a frequency range of 32-25,000 Hz, sensitivity of 91.5 dB, and an impedance of 4 ohms.  The cabinets offer an in-house developed self-locking design which promises an improved sonic clarity and performance.  The Figaro M comes with a unique "stealth" grille.  To be more precise, it actually comes with two detachable grilles: one that blends perfectly with the front baffle and allows you to see all the drivers; and one that is a traditional cloth grille.  Regardless of which one you choose, the Figaro M is designed to deliver precisely the same sound.
With a price of $7,500, US the Figaro M speaker sits in a market that's flooded with a lot of great sounding / great looking speakers from both major and boutique brands.  The competition is stiff in this space – there's no question about that.   So how well did this speaker perform?
General Sonic Impressions
My initial impression when listening to the Figaro M speakers was that they offered a very well balanced sound.  The ever critical midrange was spot on.  The vocals sounded natural and palpable, while instruments in the midrange played with great clarity, detail and a natural timbre.  The high frequencies played with an excellent resolution and crispness that you would expect from real instruments.  And at the bottom end, there was more than enough punch to satisfy those that like recordings loaded with great bass lines.
During the three months that the Figaro M speakers spent at my house, I had the chance to pair them with different electronics – including my Jeff Rowland Continuum S2 integrated amp, the Unison Research Sinfonia Tube integrated amp, as well as the ModWright Instruments LS 100 tube preamp / KWA 100 amp.  All of the components were plugged into my Nordost QB8 power distribution box and wired up with Nordost Tyr 2 cables.