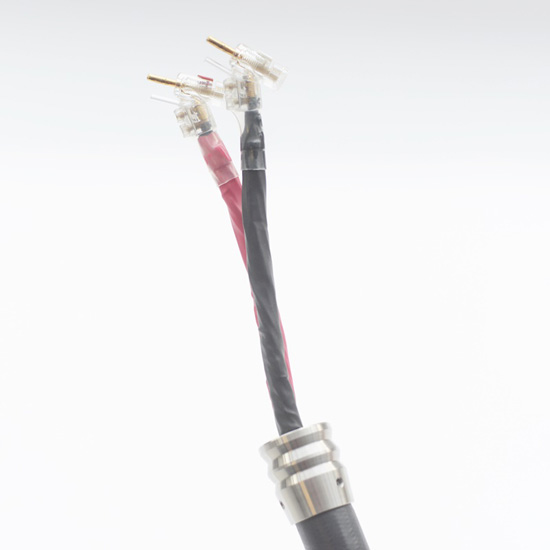 Comparative Testing:
During months of listening tests, numerous audiophile friends turned up with their reference speaker cables. These cords included: 1), Tara Lab's The Muse bi-wire SCs ($12,500 USD); 2), Stealth's Dream V10 SCs ($14,000 USD); 3), Siltech's The Prince Signature SCs ($13,700 USD); and 4), Argento Audio's Flow Master Reference SCs ($16,000 USD).
In blind tests, Audio Sensibility's Signature SCs came so close to the sound quality of the other cables that I couldn't reliably say which one was which. The Stealth Dream V10 and the Argento FMR cords both had marginally deeper resolution. This is the "hair splitting" I mentioned earlier. Please remember this: depending on the length, AS' Signature SCs can be bought for 1/6th to 1/10th the price of any of the other speaker cables I've listed above.
Listening Tests:
Released in 1974, Joni Mitchell's Court and Spark has shiver-inducing sonics. With tracks like "Help Me", "Free Man in Paris", "People's Parties", and "Court and Spark", this disc features a plethora of legendary musicians.
Audio Sensibility's Signature SCs created a huge 3-dimensional soundstage where the guitars, bass, drums, percussion, woodwinds, trumpets, pianos, and vocal lines could all be clearly heard within a deftly layered musical framework. Listening to Mitchell's heart-wrenching vocals through the Signature speaker cables sent shivers down my spine. Damn she could sing! I heard a purity and innocence in her voice which was both haunting and unnerving.
Showcasing 14 gut-wrenching tracks like "Traveller", "Tennessee Whiskey", "Parachute", "Daddy Doesn't Pray Anymore", and "Was it 26?", Chris Stapleton's Traveller is a ham-fisted, hard drinkin', pile-drivin', powerhouse of an album that spotlights outlaw country in all of its painful, soul searching, and introspective glory.
The legacy of Willie Nelson, the Charlie Daniels Band, Waylon Jennings, Johnny Cash, and Merle Haggard—to name just a few—hasn't been lost. Hell no!! Stapleton returns outlaw country to the honest, hard working, and bloody knuckled rebellious music that just about anyone can relate to.
Listening to the track "Outlaw State of Mind" through the Signature speaker cables, I clearly heard the timbral accuracy in every echoing guitar note, harmonica flourish, and percussive accent. The sonics were effortlessly dynamic and sublimely transparent. The songs resonated with a heavy handed delta-blues vibe and the wealth of micro details revealed within the macro sonic picture shook me to my core.
Conclusion:
Is it too early to call Audio Sensibility's Signature speaker cable the "Product of the Year" for 2018? During the past 5 years of reviewing audio gear and cabling, I haven't heard any single product—at any price– which has made as big an improvement to my 2-channel systems as Steven Huang's flagship SCs.
So you can't afford $20K or $60K level "reference calibre" speaker cables, but still yearn to hear what such breathtakingly expensive wiring sound like? Well… now you can. With their Signature SCs, Audio Sensibility has created a state-of-the-art speaker cable that costs a fraction of what other cable makers charge for their flagship cables.
Audio Sensibility
www.audiosensibility.com
sales@audiosensibility.com
416-953-8898
Pricing: $1899 CAD for 1.5m pair, $1999 CAD for 2.0m pair, $2299 CAD for 2.5m pair.