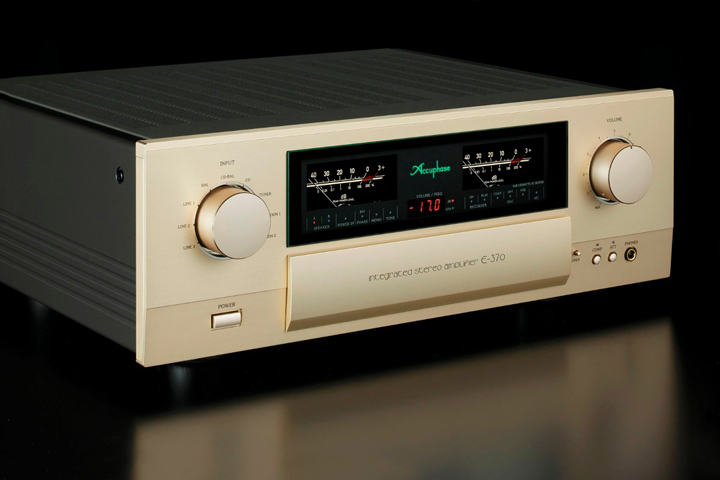 Please welcome Shahril Mokhtar to the NOVO High-End writing team! Shahril hails from Kuala Lumpur, Malaysia. His deep interest in hifi started back in the early 90s when he acquired a vintage Sansui hifi system from his late father.  Shahril began providing opinions on hifi, home theater and headfi topics in online forums in 2005 and became the moderator of one of the most active forums in Malaysia and Singapore. As he attracted more followers, he started his own review blog at www.notanotherhifiblog.blogspot.com and has been actively writing reviews since. He also regularly writes for www.audiofi.net and is a recognizable media member in the local hifi scene at new product launches and the annual KL International AV Show. He would love to open his own hifi shop but is a little concerned that he might hog all the equipment for himself, rather than selling it.
Accuphase Laboratory Inc. is one of Japan's highly regarded high-end audio designers / manufacturers. Based in Yokohama City, its products are fittingly named Accuphase. The company was founded in 1972 under the name Kensonic Laboratory Inc. Its early products, the classic C-200 preamplifier, P-300 power amplifier and T-100 FM/AM tuner were commercialized in 1973. In 1982, the company changed its name to Accuphase.  Famous for its golden chassis and dB meter, Accuphase offers a full suite of hifi products covering both the digital and analog domains. The company's portfolio includes integrated amps, pre-power combos, monoblocks, standalone DACs and CD transports. Most of its preamps and integrated amps offer modular upgrades in the form of DAC and phono stage cards that can be outfitted in future upgrades.
Build Quality and Specifications
The Accuphase E370 integrated amplifier is the second model up from the entry-level E270 in the company's range of four integrated amplifiers.  Above it sits the E470 model and the Class A E650 flagship model. The E370 retails for approximately $5,500 US.
Accuphase is well known for its classic golden chassis and the analog dB meter on its front fascia. One hard for an Accuphase component to go unnoticed even from a fair distance. Weighing at about 23 kg, it is quite a sizeable amp with dimensions of 465 mm x 171 mm x 422 mm (WxHxD). To ease the installation, I opted to install it at the top of my TAOC rack. The built quality is solid but also refined with elegance. All the RCA, XLR inputs, and speaker binding posts are nicely arranged at the rear, making it easy to start plugging in the cables.
In the front, the mighty meter display is the highlight of Accuphase's unique look. In the dark, the amp stands out with its glow. There is something about these meters that makes them more relaxing when compared to digital LED meters. There are two large knobs, one for volume control and the other for input selection. Below the volume knob, there are 3 small buttons: Open, Comp (booster) and ATT (attenuation). Pressing the Open button allows the front panel cover to drop down to expose other functions including tone controls, as well as the DAC and phono stage, among others.
You can also use the E370 with your choice of headphones. I tested the amp with both Beyerdynamic T1 and Audeze EL8 and found it to deliver outstanding music quality through both pairs of cans.
The E370 is rated to deliver 150 wpc into 4 ohm or 100 wpc into an 8 ohm load. But this may be just on paper. I've listened to many high-end amps that under-quote their power capability. During the time I had this amp for review, there were a few surprises that I experienced, especially during low volume listening sessions.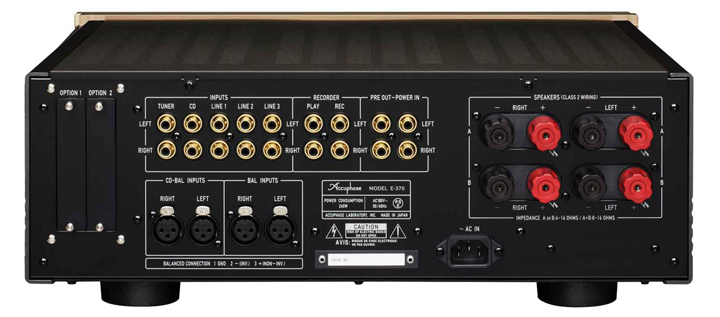 One of the key technologies that the E370 offers is the Accuphase Analogue Vari-gain Amplifier (AAVA) volume control. This is a relatively new volume control concept which is a departure from the commonly used variable resistor, to assure optimum performance and sound quality. As the signal does not have to pass through a variable resistor, there is no adverse influence from impedance changes. Thanks to this design, the outstanding S/N ratio and excellent THD of the amplifier is not compromised in any way, maintaining a superb sound quality at any volume setting.
What is interesting about the E370 model is that its design topology is actually derived from the company's top of the line E600 and E470 designs. Accuphase does not compromise quality even in its entry or mid level products. The E370 also features MOSFET switches in place of relays for speaker protection. The circuitry of the output stage offers low impedance with a damping factor of over 400.