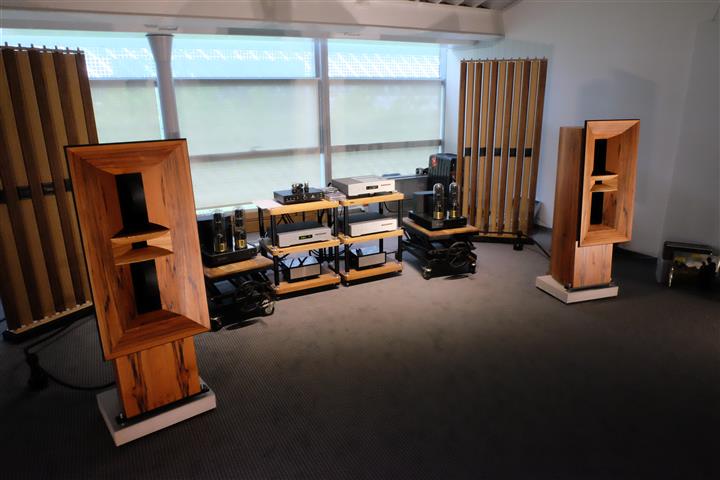 High-end: a term that defines home audio systems that pursue the highest fidelity of sound, are insanely unlimited in terms of size, weight, power consumption and obviously, price. Heaven and hell together, in a way. And it is also the excuse for some people with large wallets to speak as if they were musical producers or sound engineers, especially with a classical music record pressed before 1970 in their hands; boring people who listen and talk about sound instead of music. I'm sure you know someone like that, don't you? The largest European high-end audio fair takes place in Munich at the beginning of May every year. And this lack of limits brought to reality makes this fair something really curious and interesting to me, someone with a background in sound engineering – a realm where you simply use tools for working with music and sound. Join me as I look at some of the most interesting displays at this year's High End fair, in no particular order. If you enjoy this piece, more parts will published here soon.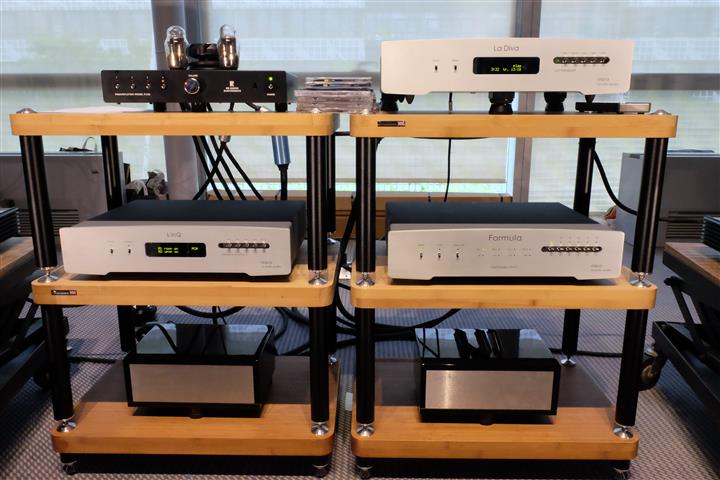 Aqua acoustic quality
The demo rooms at the High End fair are often shared between different companies which allows them to show complete audio systems. This Italian company partnered with Cammino (power products and cables), KR Audio (amplifiers) and Blumenhofer Acoustics (speakers). Cristian Anelli, Aqua's CEO, showed me La Diva, a CD player with high-performance proprietary ISDC (Isolated Synchronous Discrete Circuit) digital decoding, custom designed discrete circuit with high-speed photocouplers for Galvanic and magnetic isolation between the CD drive unit and the digital output, and multiple analog and digital outputs. Cristian also introduced me to the Formula, a DAC with proprietary Optologic D/A conversion system based on resistor ladder technology instead of the usual sigma-delta converters. Both models are manufactured with aluminum anti-resonant cabinets. Depending on the audio signal, the Formula DAC can handle audio from 44.1 kHz to 768 kHz (a jaw-dropping number, indeed) and 24 bits. More info at https://www.aquahifi.com/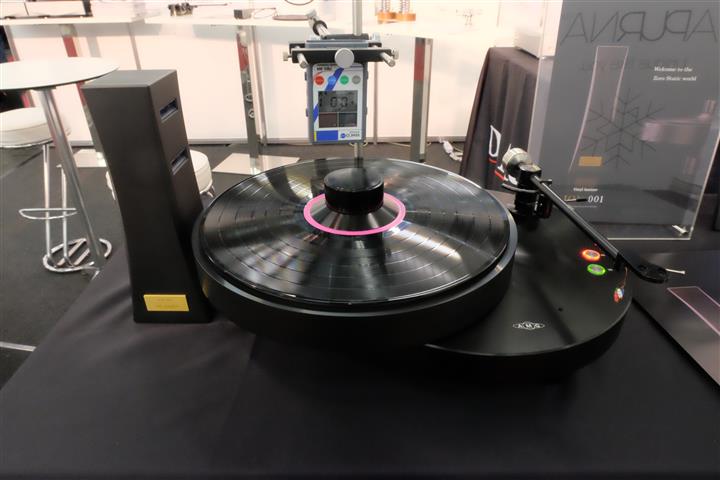 DS Audio
I discovered this company last year while walking between the various demo rooms: my attention was grabbed by Mer de Noms, the first album of one of the best metal progressive bands of today, A Perfect Circle. The phono optical cartridge technology, launched by Toshiba in the 70s, disappeared from the audio market in the 90s with the rising popularity of CD format. A few years ago, the technology was taken by this Japanese company and improved using LED technology and dedicated (and huge) RIAA converter modules. The 3 advantages over the magnetic phono cartridge technology are the lack of magnetic resistance, an extremely low moving mass and simplicity.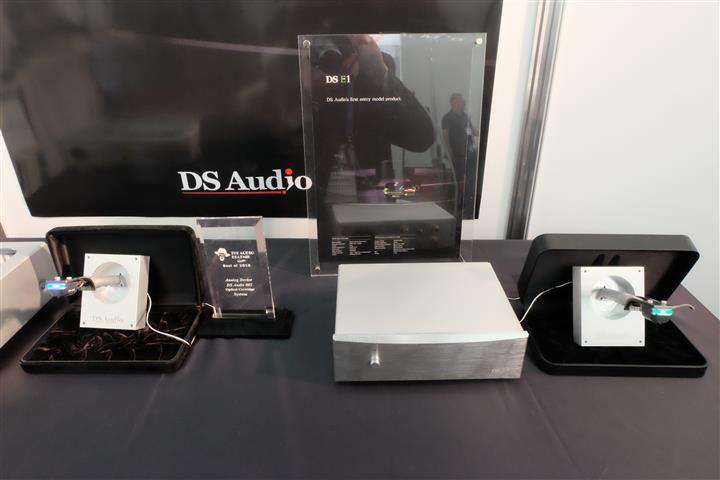 Tetsuaki Aoyagi, the company's CEO, demonstrated its newest products to me: the DS-E1, a new entry-level optical phono cartridge with an incredible channel separation, and the ION-001, an electronic vinyl demagnetizer that generates ions to remove static energy from vinyl. The company also manufactures a stylus cleaner based on gel, the ST-50, that is far more efficient and stylus friendly compared with any stylus brush. More info at https://www.ds-audio-w.biz/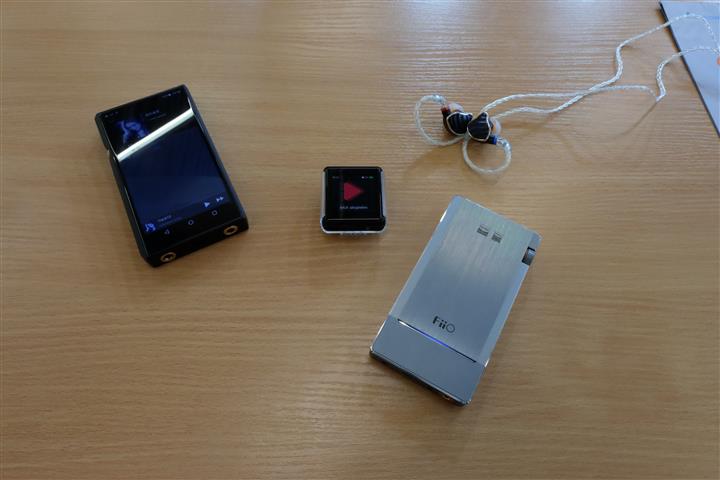 Fiio
Hi-Res portable audio is a reality nowadays. This company from China introduced its new flagship player, the Q5s, a Bluetooth and DSD-capable DAC & amplifier. Considering its audiophile-grade components, it's definitely the devil's music player.  It employs the XMOS XUF208 microcontroller for its stability, functionality, and proven reliability; and two AKM AK4493EN DAC chips, known for their smooth, pleasant and detailed sound due to their high signal-to-noise ratio and low distortion. It has a low-pass filter section with a Texas Instruments high-performance OPA1642 chip, while the XMOS microcontroller ensures that audio signals are precisely handled with lower power consumption for longer battery life. When these elements are combined with the AK4493EN DAC chips, Panasonic film capacitors, and the NJW1195 volume control chip, the result is a really worthy-to-listen-to sound. You'll find all of this tech packed into an attractive sandblasted and laser cut minimalistic CNC aluminum body.
Now, according to the blood-signed contract, we need the devil's earphones too, right? Meet the Fiio FH7 – equipped with four Knowles balanced armature drivers plus a beryllium dynamic driver and a complex crossover.  These earphones feature Fiio's S.TURBO V2.0 acoustic design to provide deeper bass, a damping system that relieves internal air pressures for improved listening comfort, 3 interchangeable sound EQ filters, high-purity silver wires (not compatible with werewolves, sorry), and a 5Hz – 40kHz frequency response (that's a number!).  All of the technical goodies are enclosed in aerospace-grade aluminum-magnesium alloy shells that look great and sound terrific. More info at https://www.fiio.com/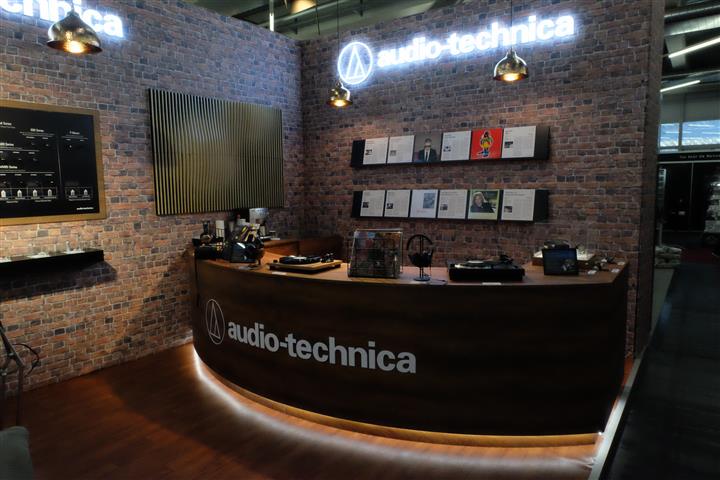 Audio-Technica
If you don't think that a turntable could be improved just by changing the phono cartridge, don't bother reading any further. Turntable fans know that by upgrading the cartridge can result in a big sonic boost. Keeping true to its roots as phono cartridge manufacturer, this legendary Japanese company offers a range of 13 moving coil and 20 moving magnet phono cartridges today, and all the moving magnet models have interchangeable styluses.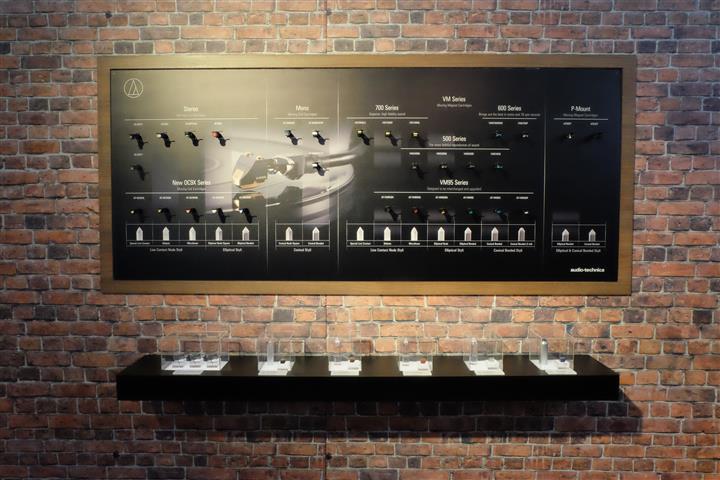 If you'd like to learn more about stylus shapes, just take a look at the picture in the Audio-Technica booth, where you'll find more info about the 9 different stylus shapes they make. This picture plus the models on the shelf will give you a master class about stylus anatomy. Period. My choice? The MicroLine.  It takes care of your vinyl and gets rid of the inner groove distortion beautifully.
Now, if you didn't read my Audio-Technica ATH-W5000 Raffinato headphone review published this spring, I invite you to take a break from all this technical information and jump to http://novohighend.com/audio-technica-ath-w5000-raffinato-headphone-review/. Over the last few years this company has been forging its own path in high-end headphones and the results are impressive. So before leaving the show, I borrowed a pair of the ATH-ADX5000 Reference Air dynamic open-back headphones, an AT-LPW30TK manual belt-drive wood base turntable, an RME's ADI-2 DAC and a Miles Davis "Kind of Blue" record. Now, my Beyerdynamic 990 headphones are so jealous that play hide and seek with me every time I look for them at home… More info at https://www.audio-technica.com/
Additional parts of my report will be published here soon – so please stay tuned!
In the meantime, I invite you to check out NOVO High End's "The High-End Show Report" posted recently by Phil Gold.